PtRM Reports for 2016
2016 Play the Recorder Month Reports
The 2016 celebration of
Play-the-Recorder Month
(PtRM) took place, as always, in March. Saturday, March 19, 2016, was designated
Recorder Day!
Chapters from all over North America celebrated by holding events that showcased and promoted the recorder. ARS held its annual PtRM Contest, judged by the Chapters, Consorts & Recorder Orchestras Committee. All 3 of the winning entries included performances of "Steamed Bass and Fischmaul" by acclaimed performer, composer and educator Matthias Maute.
And the winner is:
The Rochester Chapter of the American Recorder Society
who won a gift certificate from
Honeysuckle Music
in St. Paul, MN. Read further to see why they placed first in this competition.
Thank you to Honeysuckle Music for their kind donation!

First Place Winner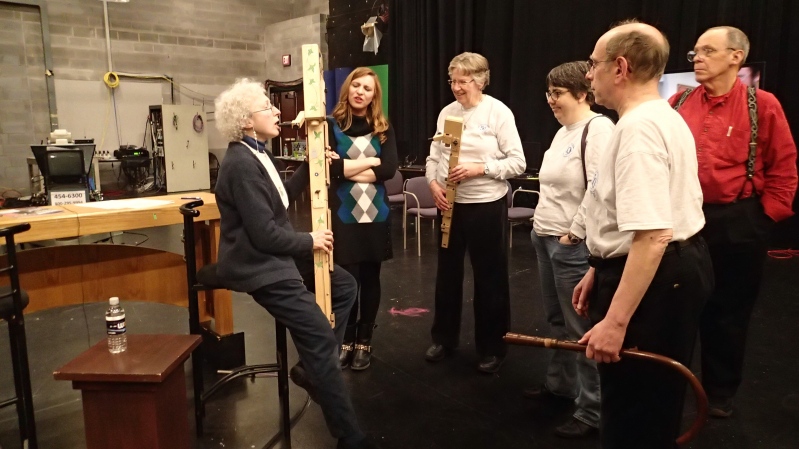 Rochester, NY
Rochester Chapter
Eleven members participated in our local PBS station March pledge drive on Friday, March 11th. We wore chapter t-shirts, placed plenty of recorders around the telephone stations, and answered phones during the drive. Our logo and website were prominently displayed several times throughout the night and the pledge hosts spoke briefly about our chapter. Our members have decided to participate in this event at least yearly as our local PBS classical radio station has been very supportive of our group.
On Saturday, March 19th, Roch-ARS hosted our Spring Workshop with Wendy Powers. 26 members from our chapter and others throughout the state enjoyed learning and playing music reflecting the many definitions of love. Many of our chapter beginners attended and were happily able to participate, thanks to their dedicated practicing and our wonderful beginner teachers. Throughout the weekend, Wendy taught lessons to eager participants, all of whom were impressed by her coaching.
The chapter's performance ensemble, the Outreach Players (8-12 musicians), presented a program with instrument explanation and demonstration, music, and interaction for third, fourth, and fifth graders at Rochester City School District School #42. Each grade met separately for a total of 100 youngsters. In addition, the fourth and fifth graders each played "Ode to Joy" on their sopranos as the Outreach Players provided harmony.
Two members of our chapter played the prelude and postlude for a church service on Sunday, March 13. Bicinium on "Ach Gott, wem sol ich klagen" was the prelude; Allegro from "Divertimentino" by Richard Rudolf Klein was the postlude.
Two members of our chapter performed with Nonesuch Early Music Ensemble as part of the Court Musicians for the Strong Museum of Play's annual Royal Ball. Thousands of families attend this event to receive knighthood from the Queen of Play, test their skills at Nerf archery, feast at the royal banquet, and—of course—dance with the lords and ladies of the court!
On Saint Patrick's Day, a member of the chapter played "St. Patrick's Day Party" and "Skye Boat Song" along with an ensemble of mixed instruments at her church.
Throughout the month of March, Roch-ARS added videos to and launched our YouTube channel (Rochester ARS
https://www.youtube.com/channel/UCMsIwX3DNe4l27UsFkRwp8w
), which will be used to showcase our concert pieces, various performances, and (in the future) instructional and informational videos on instruments and technique. Our YouTube channel is part of our continued efforts to take advantage of the far-reaching publicity available through social media. Our chapter already has a website, Facebook page, and Twitter account (@RocRecordersNY).
The entire membership—including beginners—played "Steamed Bass and Fischmaul."
Contributor: Jessica Brennan
Second Place Winner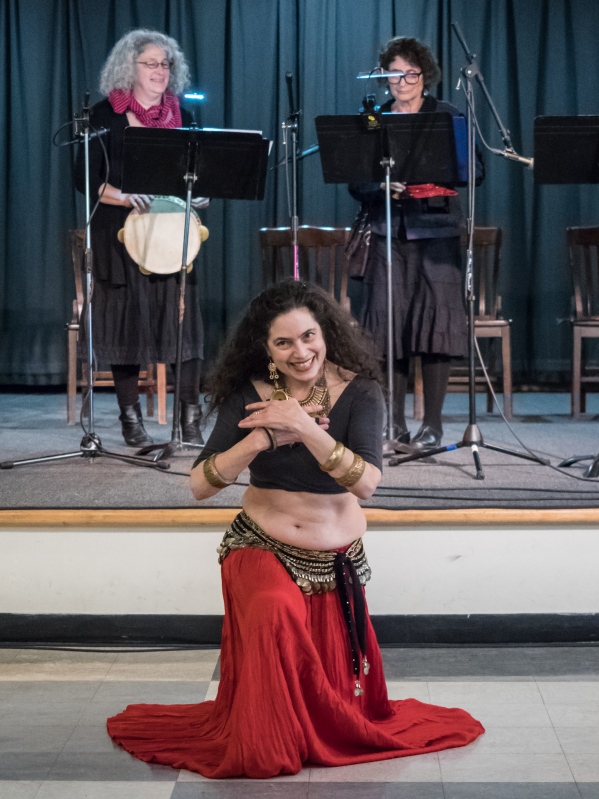 Seattle, WA
Seattle Recorder Society
Congratulations to SRS on second prize, a gift certificate to
Lazar's Early Music
.
Thank you to Bill Lazar for the donation!
The Seattle Recorder Society held three PtRM events. The first was at the SRS Membership Meeting on March 4, 2016. Our program was given by Sand Dalton of Lopez Island, maker and player of historical copies of Baroque oboes. He gave us a great deal of fascinating information, and played nine different instruments. We revisited Peter Siebert's recorder orchestra arrangement of Handel's "Music for the Royal Fireworks." Meanwhile, three intrepid alto recorderists played Shakespearean-era tunes including "Greensleeves" and "Whoop! Do Me No Harm, Good Man" in the back room. Laura Faber, standing in for Sally Mitchell, noted that the three played "staggeringly well in tune with each other!" and that they enjoyed extending the discussion we had heard earlier regarding forked fingerings and oboe-related topics.
On Mar. 12, 2016, Laura Faber, a recorder teacher of beginning through intermediate level adults and children, invited local Seattle Recorder Society chapter members and students to her studio to practice the "Play the Recorder Day" (PTRD) composition "Steamed Bass and Fischmaul" in preparation for the "Play the Recorder Month" Celebration event "Play-In" on Mar. 19. Approximately 10 people attended the playing session. Laura talked about "fischmaul" technique as a proponent of its proper use where appropriate, in contrast to composer Matthias Maute's comments, who in rather tongue-in-cheek fashion relegated the "open-mouthed fish" technique to only a fond memory. This prompted a lively discussion about its use in recorder-playing. We did in fact end this piece with an open fish mouth in true fischmaul fashion as the final measure has rests in all parts. I also led the group for a time to fine tune the jazz chord tangents and discuss other musical interpretations of this wonderful piece. Laura then led us in playing a selection of pieces from past PTRD compositions to commemorate PTRM and for the pure enjoyment of it. This included "Deep Blue Sea" by Seattle composer Peter Seibert, "Excellentia" (2015) by Gary Gazlay and "Porque Llorax" was a setting by Will Ayton (2012).
One of Seattle's contributions to the ARS Play-the-Recorder Month was held on March 19 and was coordinated by our very own ARS Board Member, Nancy Gorbman. About 15 enthusiastic folks showed up for the opening "Play In" to play Matthias Maute's "Steamed Bass and Fischmaul" at the Lake Forest Park Third Place Commons on "Play the Recorder Day," Saturday, March 19th. It was a delightful event with activities for kids including word search games, a world map search, and a raffle drawing for 3 free plastic soprano recorders donated by Ted Brown Music. Performing ensembles included Ye Old Spice Girls, several dynamic duos, harpsichordists, percussionists, poetry recitation and even a belly dancer! The music program included: Schmelzer's "Fechtschule" ("The Fencing School") and movements from various "Ballettos;" the traditional English Tune "Bobbing Joe," a Renaissance tune "Schiarazula Marazula" by Giorgio Mainerio; "On the Forest Floor" by Lance Eccles (b. 1944) with poetry; a Turkish dance called "Sehnaz Longa" by S. Efendi'nin; a French baroque piece entitled "Le Coucou" by Louis-Claude Daquin; and "Divertimento" by Bohuslav Martinu, a 20th century Czech composer.
Contributors: Kathleen Arends, Nancy Gorbman and Vicki Boeckman
Photos by William Stickney.
Third Place Winner!
Raleigh-Durham-Chapel Hill, NC
Triangle Recorder Society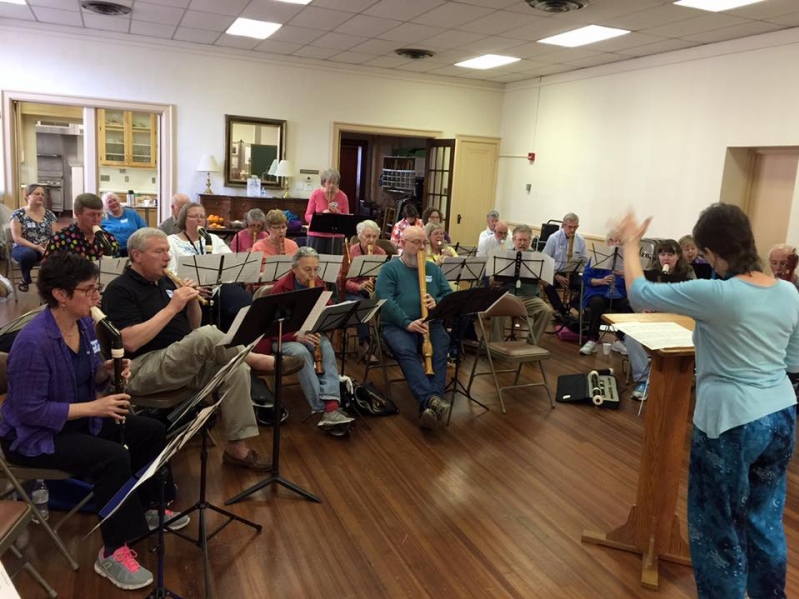 Congratulations to TRS on third prize, a gift certificate to the
Von Huene Workshop
.
Thank you to Von Huene for the generous donation!
On Friday, March 18, six elementary students in the Beginning Recorder Class at The Exploris School (
http://exploris.org
) in Raleigh, NC made a video showing off their new skills in honor of Play-the-Recorder Month. They worked hard for weeks under the guidance of TRS member Dana Deaton, using the Recorder Karate curriculum, with help from TRS members Nancy Schecter, Jan Jenkins and Mary Norris. On our web page is a video of the children playing "Old MacDonald Had a Farm." They were an enthusiastic group, the second group to be offered this recorder elective (the school is a charter school, so parents provide many of the electives). This was a great introduction to playing an instrument, or adding an instrument. Some really caught fire, and Dana made sure to tell them all about TRS, ARS, and opportunities to play all kinds of recorders as they grow.
Then on Saturday April 2, 2016, dozens of tired but happy Triangle Recorder Society Spring Workshop participants joined in playing Matthias Maute's "Steamed Bass and Fischmaul" at the finale of our Spring Fling at First Presbyterian Church in Durham, NC. We were privileged to have Valerie Horst of New York as a special guest, as well as wonderful returning instructors Stewart Carter, Patricia Petersen, Kathy Schenley, Doug Young and Jennifer Streeter. Participants in the workshop ranged from low-intermediate to advanced, and a good time was had by all! See a video of us playing the ARS piece on our web site:
http://www.trianglerecorder.org/play-the-recorder-day-2016.html
Contributors: Jan Jenkins, Dana Deaton
Dallas, TX
Dallas Recorder Society

The 2016 Play-the-Recorder-Month was one of the busiest ever for the Dallas Recorder Society (DRS). The main event was the Memorial Service on March 19 (on Play-the-Recorder-Day) for our dear friend and long-time member Bill Patterson who over the last 40 years served as ARS chapter representative, librarian and music director of the DRS. The memorial service was organized and directed by Susan Poelchau, with the capable help of a talented volunteer committee consisting of Louise Delano, Jack Waller, Pat White, Linda Snow, Alice Derbyshire, and Harald Poelchau. It took place in the Chapel at Bill's retirement home in Dallas. Various groups of DRS members and friends from Austin and the Cowtown Recorder Society (our sister organization in Fort Worth) contributed music during the service: two Morley canzonets as introit, Gibbons' "Almighty and everlasting God" played by the entire group, "Returning Home," a lovely and evocative piece composed and played by Cornell Kinderknecht on Native American flute, Holborne's "Night Watch," and a postlude with pieces by Morley and Michael Praetorius. The service was followed by a reception and get-together. A small group gathered in a corner to play background music including the PtRM official piece "Steamed Bass and Fischmaul" by Matthias Maute.
For the March DRS regular meeting Jamie Allen, one of our leaders, invited elementary students and their music teachers to join us and rehearse together the soprano and alto recorder parts for Britten's "Noye's Fludde." Jamie is Director of Education of the Dallas Symphony Orchestra and organized and directed this opera as an outreach project which involves, among other groups, three Dallas elementary schools. The students and DRS players participated in two performances of the full opera in April as a part of the Dallas Symphony Orchestra's annual Soluna International Music & Arts Festival.
Contributor: Harald Poelchau
Largo, FL
Pilgrim Pipers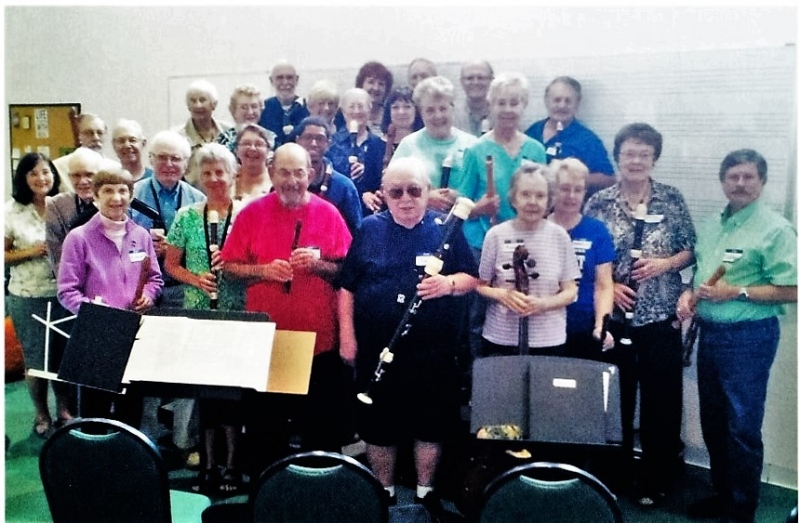 On March 10 the Pilgrim Pipers joined with over fifty elementary and middle school students of the Sacred Heart Catholic School at Pinellas Park for a morning of playing recorders. The students were under the guidance of Dahlia Gibson, their music teacher. The Pipers were serenaded by the students—a soprano solo; a trio of violin, soprano, and alto; another trio by three boys; and a full chorus of recorders. They had been well coached by their teacher. The Pipers responded with three pieces: the Allegro con Spirito movement of a James Hook concerto, a Gavotte from Suite #1 in C Major, and the "Zip Code Boogie" by Charlotte Van Ryswyk. The students and the Pipers joined together to play several pieces: a trio (SSA) by Cat Marshall, a Communion hymn "Eat this Bread," the Valstietiska Kantata by Bach (a duet), and a four part hymn "Nada te turba" based on a text by St. Teresa of Avila. It was a moving, musical experience for everyone. The children proved great hosts for our gathering.
On March 11 under the initiative of Marlene Cracraft, Director of the Pasco Collegium Mixed Recorder Consort of Hudson, FL, three groups of recorder players from three counties met for a "do-it-yourself" workshop. The groups involved were the Imperial Recorder Consort conducted by Jane Spencer from Lakeland, the Pilgrim Pipers guided by Elizabeth Snedeker from Largo and the Pasco Consort joined together for an enjoyable day of recorder music. The music ranged from the 16th to the 21st centuries with composers from Jean Mouton via Bach and Handel to Stan Davis and Pete DeRose. Our instruments included sopranino to contrabass with a cello that added substance to the bass line. Each group submitted six pieces that were distributed to everyone in advance. Thus we arrived at the First Methodist Church in Hudson that morning prepared to play together 18 pieces of recorder music. The leader of each group conducted the pieces its group submitted. It was great fun and exciting as always to hear the sound produced by multiple recorders. During lunch we had the opportunity to celebrate the 88th birthday of one of our participants, playing "Happy Birthday" and sharing in a birthday cake. In the afternoon each group played a piece which they had specifically prepared for the day. Marlene Cracraft commented: "I was well pleased with the way it turned out. We enjoyed playing a variety of pieces and listening to each group play."
Contributor: Elizabeth Snedeker
Again we'd like to thank our stalwart business members
Honeysuckle Music, Lazar's Early Music,
and
the von Huene Workshop
. Please support these privately owned small businesses who do so much for our recorder community. We appreciate you!