2013 Play the Recorder Month
2013 Play the Recorder Month
Our 21st celebration of
Play-the-Recorder Month
(PtRM) took place in March 2013. Saturday, March 16, 2013, was designated
Recorder Day!
Chapters from all over the country celebrated by holding events that showcased and promoted the recorder.
ARS held its annual
PtRM Contest
, judged by the (newly renamed) Chapters, Consorts & Recorder Orchestras Committee. All 3 of the winning entries included performances of the special ARS PtRM piece by
Will Ayton
,
Porque Llorax
.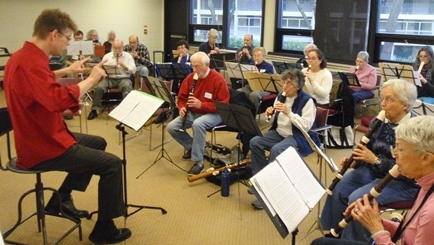 For the second year in a row,
Philadelphia Recorder Society
won first prize, this year a gift certificate from
Honeysuckle Music
in St. Paul, MN. PRS activities included a whopping 14 events! Some highlights included inviting residents of the Cathedral Village Retirement Center (their chapter meeting place) to listen in on their monthly playing session led by Director
Rainer Beckmann
(
photo right
); the
PRS Performance Group (Dody Magaziner, Hiroko Manabe, Liz Snowdon, Molly Garrett, Joanne Ford, and Sarah West
)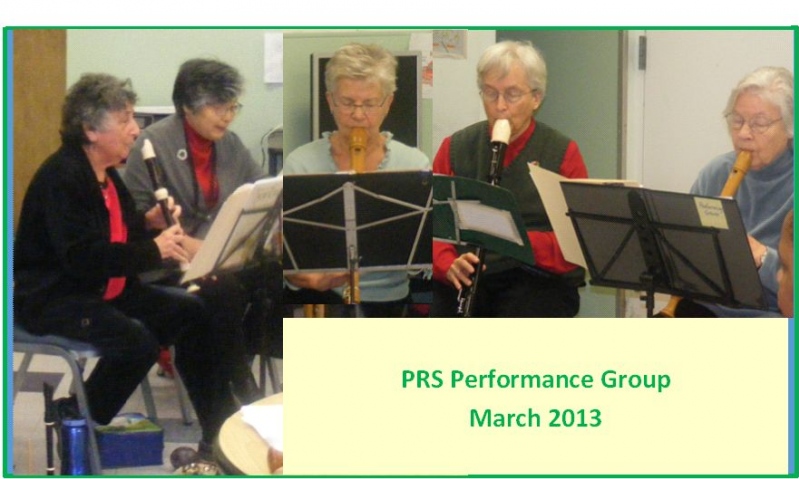 presenting a program of American music at a community center for adults; a trio (
Magaziner, John Gangswisch, Charles Gabriel
) performing during several lunch hours at the Suburban (Train) Station in Center City Philadelphia (and collecting donations of $70!); the
Hillview Consort
giving 2 performances to retirees which included a description of the recorder and its history. Two members (
Soyeon Choi
and
Nathan Knispel
) are on an academic fellowship in Rome and performed Gastoldi duets for friends.
PRS activities were not limited to adults. Music teacher Miriam Arbelo's Fountain Woods Elementary School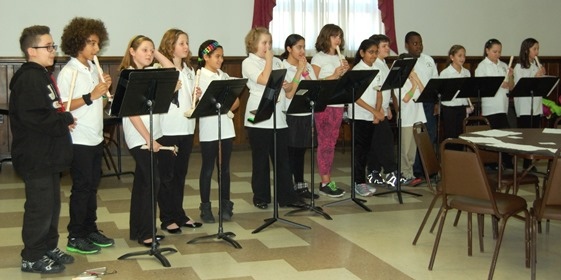 Recorder Sinfonia (
photos left and below
) performed for a senior citizens' luncheon, and Molly Garrett introduced a complete set of recorders to her Head Start class or 3, 4 and 5 year-olds.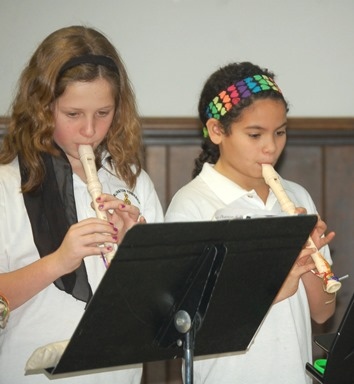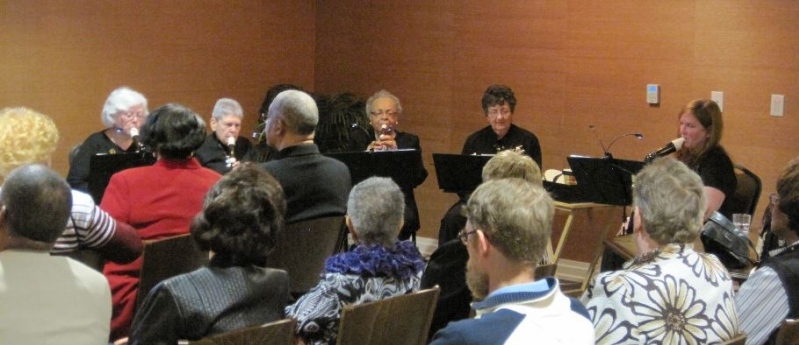 Hillview Consort performing at their senior community, Hillview in Coatesville, PA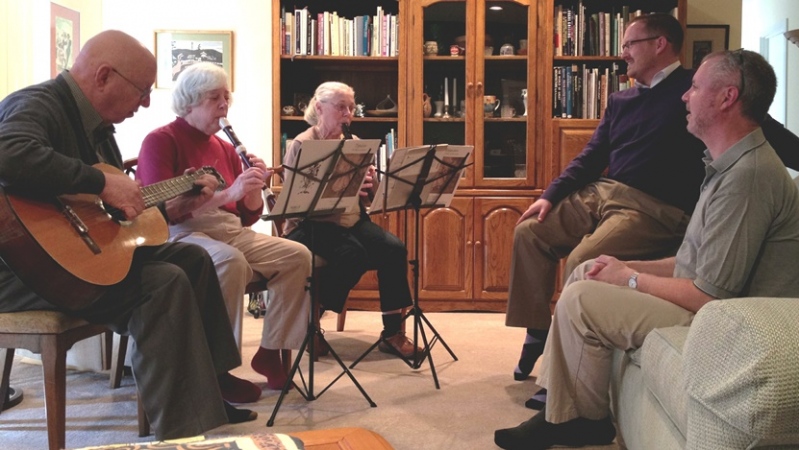 Rich & Hannah Kaufman with Judith Schermer Performing for their son Dan and his friend Paul who came from Arlington, VA and were visiting for Passover.
First runner-up was the
Sacramento Recorder Society
(photo below);
they will receive a gift certificate from
Lazar's Early Music
in Sunnyvale, CA. SRS events (there were 8!) took place in churches, schools and a theater and included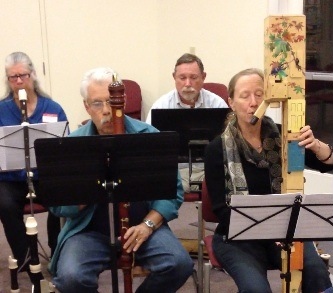 performances by members and other musicians. One ensemble, in costume, participated in a Renaissance Faire at a K-12 school. They played for dancers and demonstrated their instruments for and played music with a 4th grade class. At another school, an SRS member played recorder for and with a medieval history and dance class. Glen Shannon conducted an ensemble in some of his compositions at a noontime concert. The chapter's monthly meeting included playing
Porque Llorax
both as written and on low instruments (this recording can be found at
http://www.youtube.com/watch?v=dClhpgeY5X4
).
Honorable mention chapter,
Phoenix Desert Pipes
also uploaded their
Porque Llorax
performance to YouTube
(
http://www.youtube.com/watch?v=aVTgP1Ro4mc&feature=youtube_gdata
) on Recorder Day! The Desert Pipes are celebrating their 50th anniversary this year! They will receive a gift certificate from
Boulder Early Music
.
The
Alabama Recorder Consort
was the group with the largest increase in membership this year. They will receive a gift certificate from the
Von Huene Workshop of New England
in Brookline, MA.
Other ARS groups that held events during PtRM follow:
The
Albuquerque Recorder Orchestra
(performing as the ARO Consort) performed their concert entitled
The Birds and the Beasts
on March 23 at the Main Library in downtown Albuquerque. They had a variety of music about animals collected by
Kees Onneweer
, featuring
Ruthann Janney
singing two of the nightingale songs and Nan Simpson's gemshorns in
The Sweet Suffolk Owl.
Performing were
Ray Hale, Ruthann Janney, Kees Onneweer, Karen Rathge, Carolyn Shaw
, and
Nan Simpson
.
The
Greater Cleveland Chapter
presented a free concert on March 16 (Recorder Day!) at the South Euclid-Lyndhurst Branch of the Cuyahoga County Public Library. A good-sized, appreciative audience attended this informal event. Two chapter ensembles participated. The
Queensbridge Consort
(
Barbara Perkins, Carolyn Peskin, David Pierce, Don Shaffer, and Edith Yerger
) played Renaissance, Baroque, and folk music as well as Will Ayton's setting of
Porque Llorax
, and
The South Park Trio
(
Judy Erlichman, Dr. Jerry Goldberg, and Carolyn Peskin
), assisted by
David Pierce
, played a Handel chaconne and three English madrigals. With a nod to St. Patrick's Day, chapter friend
David Groesbeck
performed several Irish folk tunes on unaccompanied alto recorder.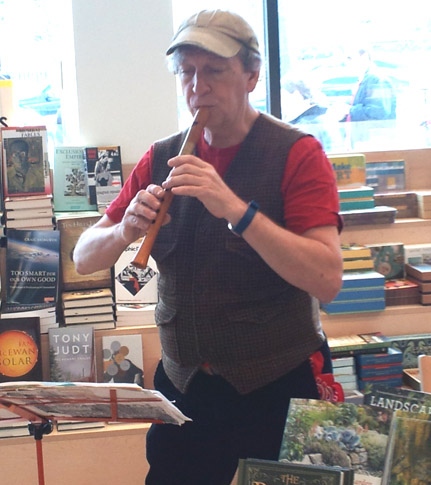 John Burkhalter
of the
Princeton Recorder Society
celebrated PtRM with "pop-up" performances at four locations March 29 and 30. To the acclaim of young and old, John played tunes from The Beggar's Opera arranged by Johann Christoph Pepusch and various music composed by Jacob van Eyck. John performed at three venues at Princeton University: in lobby areas of the art museum, music department building and main library. He also played at the Princeton Public Library in the children's area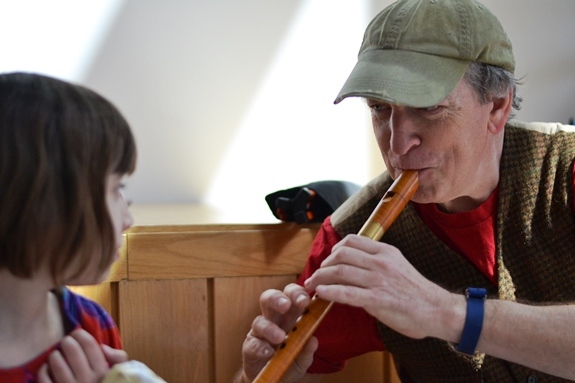 and the lobby and at the Labyrinth book store in downtown Princeton. At each performance, copies of the Princeton Recorder Society's flyer encouraging people to take up the recorder were available.
Music for the Beggar's Opera selections came from a 1728 edition in the Rare Book and Special Collections Department of the Princeton University Library.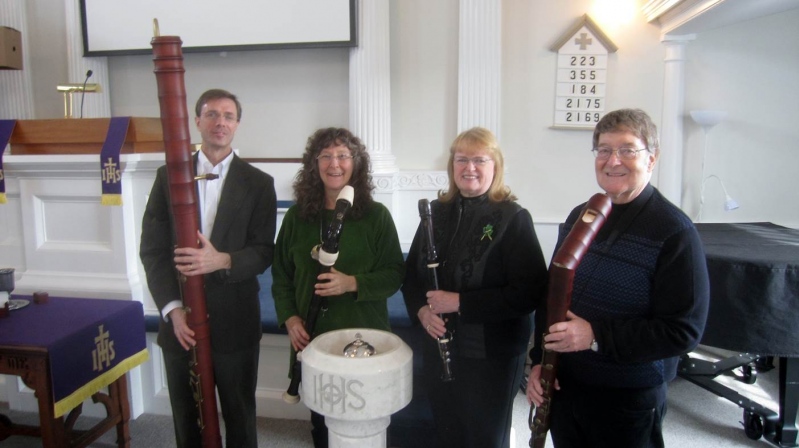 The
Westchester Recorder Guild
(WRG) (
photo below
) performs on a regular basis for services at Emanuel Lutheran Church of Pleasantville, NY. On March 10, under the direction of Music Director
Karen Snowberg
, ten members of WRG played the liturgy, hymns, incidental music, and accompanied the choir on two anthems. Selections played for the prelude and offertory were taken from the English Cathedral tradition of the 16th to 17th centuries. On March 17th WRG was again represented at a church service when
La Spiritata Recorder Quartet
played at the Presbyterian Church of Yorktown Heights, New York. Quartet members
Erica Babad, Jeff Kephart, Ron Nelson and Karen Snowberg
(director) played recorders from contra bass up to soprano, much to the delight of the congregation.
Connect With Us