ARS at the Berkeley Festival and Exhibition

2018 Berkeley Festival and Exhibition Information:

The Berkeley Festi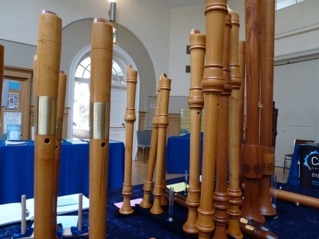 val and Exhibition (BFX) opens on Sunday, June 3 and runs through Sunday, June 10, and the ARS will be there! We will have a booth at the Exhibition and Marketplace from June 8 to June 10 where our Administrative Director Susan Burns and other representatives will be present with information about the recorder, live demonstrations and possible playing sessions, as well as free 10-minute lessons for anyone who purchases a recorder of any type from Bill Lazar's Early Music booth (close to the ARS table) or Prescott Recorders.

Here is a link to the BFX website, where you can see the listings of concerts and other events, purchase tickets, and get a preview of the Exhibition: http://www.berkeleyfestival.org/

The Festival promises to be musically very rich and satisfying. Among the many star-studded performances, there are a few which feature recorders, notably, the ARS Recorder Relay on Saturday morning (June 9 at 9:30 AM to 12:30 PM). Recorder Students, high-level amateurs, pre-professionals and professionals play in a continuous concert of 15-minute performances by soloists and ensembles, whether all-recorder or mixed. The music performed is from many genres and eras. This event is a big hit in the ever-expanding community of recorder players as well as with listeners who are charmed by the beauty of this simple, yet noble instrument.

Location information for the ARS Recorder Relay:
TRINITY CHAPEL
2320 Dana Street, Berkeley, CA 94704
Tickets available at the door. Suggested Donation: $15

We also extend an invitation for any representatives of chapters, consorts or recorder orchestras to join us for the "CCRO Breakfast Brainstorm Meeting" to be held on Friday morning, June 8, at 8:30. More information can be found on the CCRO Breakfast Meeting page.

We hope to see you there!



Greta Haug-Hryciw, American Recorder Society Board Member