Educational Outreach Grants
The American Recorder Society has established the ARS Educational Outreach Grant to support recorder education. Funds are made possible by generous donations from ARS members, from the Recorder Teachers fund, as well as donations in memory of Jennifer Barron Southcott, Sondra Thompson, and Cynthia Campbell.
Any person involved in teaching recorder may apply for a grant. This includes music teachers in elementary and secondary schools; faculty of colleges, universities and conservatories; and teachers and professionals who give private recorder lessons and/or coach recorder ensembles in music schools, home studios, or other locations. Due to the pandemic, it also applies to virtual as well as in-person events or classes.
Requests for grants that might fall under the scope of the Educational Outreach Grant include, but are not limited to:
Funding for a program involving the recorder;
Funding for K-12 teachers and educators to attend recorder workshops;
Funding to support bringing in recorder ensembles to schools for presentations/concerts;
Funding for the purchase of recorders for schools interested in starting a recorder ensemble;
Funding for educational materials.
Your application will be reviewed by the ARS Scholarships and Grants Committee. Preference will be given to first-time applicants.
Deadline: Applications are accepted from May 1 – June 15 every year (for funds to be used during the school year beginning in the fall of the same calendar year as the application).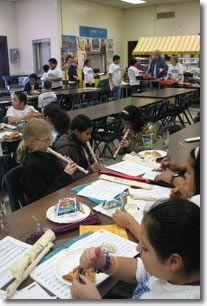 The first Educational Outreach Grant was awarded to Ft. Worth Independent School District (FWISD) through the efforts of Peggy Turner, FWISD music teacher and professional recorder and flute player along with current ARS Board member Alice Derbyshire. Both are members of Rio Brazos Ensemble in Ft. Worth, TX.
This award supported the Second Annual Super Recorder Saturday, a one day workshop for fourth and fifth graders. The event promoted recorder education for young students and supported the school's existing curricula and it was free for students.
Other recent awards have supported recorder ensembles in New York City and Shaker Heights, Ohio, and the participation of 3rd graders in a performance with the St. Louis symphony.
Apply using the
Online Educational Outreach Grant Application FormDownload ARS Educational Outreach Grant Application in Microsoft .doc format

Download ARS Educational Outreach Grant Application in Acrobat .pdf format
These Application Forms can be filled in on-line, saved, and emailed as an attachment to the email address indicated, or printed out and mailed by regular mail.