Music - "Play the Recorder Month" Archive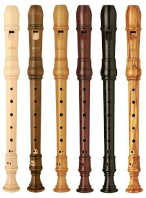 Note: this page is no longer being updated as of May 2019

. See our new searchable Music Libraries.
These compositions/arrangements were published in
American Recorder
magazine in past years for ARS members to play on
Play the Recorder Day
, the third Saturday in March. Most were written specifically for this event.
Established in 1992, this event was instituted to promote the enjoyment of playing new music, recognize the important contribution of contemporary composers/arrangers to the world of recorder music, and to encourage others to play recorder.
We invite our members to download and play these 3-5 page intermediate level pieces (requires login - and please note that the PDFs may appear in a new tab or window, so adjust pop-ups if needed). Please feel free to share them with your friends and fellow musicians!
Title
Composer/Arranger
We're ARS* (2003)
Peskin, Carolyn
ARS Fantasia super "fa re mi fa, re sol re, sol mi re ut" (2004)
Knight Gilbert, Adam
Lullaby

*

(2005)
Goldstein, David
Dynamo

*

(2006)
Rose, Pete
Deep Blue Sea (2007)
Siebert, Peter
Recorder Rally (2008)
Maute, Matthias
Thank you, ARS (2009)
Peskin, Carolyn
Koinobori (2010) awaiting copyright permission
arr. Higgins, John
The Harmonious Blockflute (2011)
Shannon, Glen
Reverie (2012)
Fischer, Mark
Porque Llorax (2013)
Ayton, Will
A Day in the Park ("Arrival" movement) (2014)
Davenport, Lanoue
Excellentia (2015)
Gazlay, Gary
Steamed Bass and Fischmaul (2016)
Maute, Matthias
Waltz (2017)
Chaudoir, James
Fantasia on a Shape-Note Hymn (2018)
Haas, Eric
Fantasia on Faithless Nancy Dawson (2019)
Neuman, Phil
*Scanned copy; quality may not be ideal.
| | |
| --- | --- |
| Triangle Recorder Society, NC | Edmonton Chapter, British Columbia |
| Rochester ARS Chapter, NY | Greater Knoxville Chapter, TN |