Highland Park NJ's tireless recorder advocate, Donna Messer

A Profile of Donna Messer, President of the Highland Park Recorder Society in NJ
By Lea Karpman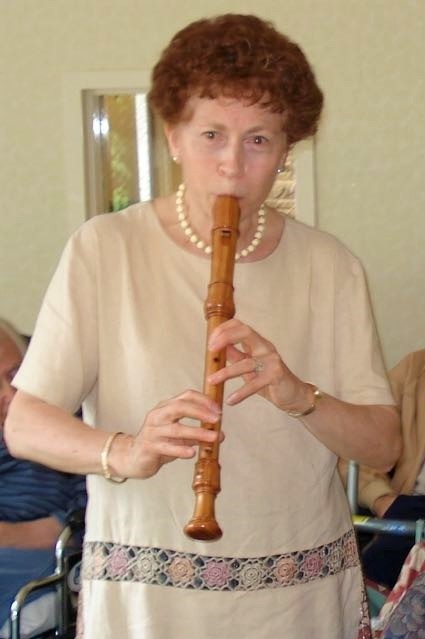 When I first met Donna Messer in 2002, it took her only a few minutes to learn that I am a violinist and recruit me immediately to play with her Baroque ensemble, Musica Dolce, the outreach performing group of the Highland Park Recorder Society which she founded in 1987. Donna's instinctive idea of adding the violin to Musica Dolce's existing ensemble of recorder, cello and harpsichord has resulted in an inspiring musical collaboration and series of successful performances over the course of the past fifteen years.
Donna's love of the recorder is infectious. Her passion for early music began at an early age in her native Montreal where she studied with the renowned flutist and recorderist, Mario Duschenes. It has grown over the years as she has developed her skills by studying piano with Olga von Till; recorder with Bernard Krainis, Howard Vogel, Phil Levin, and Deborah Booth; Dalcroze solfege, eurythmics and improvisation with Dr. Hilda Schuster of the Dalcroze School of Music in New York; and Early Music at Mannes College of Music. She has also attended music workshops and master classes with Bernard Krainis, Paul Leenhouts, Han Tol, Marion Verbruggen and Bart Spanhove. Donna has earned both recorder and music teacher certifications from the American Recorder Society.
Donna is also a consummate elementary and early childhood educator in the City of Elizabeth, NJ, public schools. This year, during the month of March, which is Music in our Schools Month, Donna has created a program of musical outreach for students on behalf of the Highland Park Recorder Society.
During the past year Donna was often a guest recorder teacher in elementary school classes of 25 young children. A music teacher who normally teaches recorder was heard commenting to other teachers and the principal that watching Mrs. Messer teach was like attending a master class in how to teach recorder.

During the Week of the Young Child, April 24-28, Donna presented music programs in seven schools, reaching over 450 Pre-K students and their 52 teachers – just over 500 people - who heard her play the sopranino, soprano, alto, tenor and bass recorders and were able to march to the beat and dance to the spirit of the music.

They were an ethnically diverse group that was 66% Hispanic, 32% Afro-American, and 2% other, including children who were Asian, Haitian, Arab, Portuguese, Pakistani and Bangladeshi. The repertoire ranged from the 13th century music of Machaut to 18th century music from the Bird- Fancyer's Delight.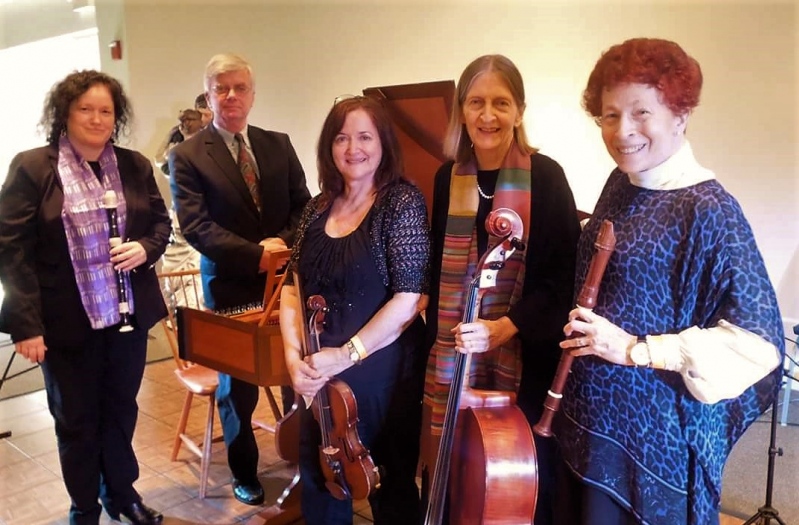 The Highland Park Recorder Society and Musica Dolce have presented concerts and workshops including the annual Festivals at the Grounds for Sculpture in Hamilton, NJ, presented by the Guild for Early Music as well as performances at the United Methodist Church, the Crossroads Theatre, the New Brunswick Public Library and the NJ Veterans Memorial Home in Edison, NJ.
This year the Highland Park Recorder Society celebrated its 30th anniversary with a concert on March 18, "Hits and Highlights of 7 Centuries," featuring Medieval, Renaissance, Baroque and Sephardic Music, and the premiere of a newly commissioned concerto grosso for recorders, strings and basso continuo composed by John Franek. The concert took place on Recorder Day and during Play-the-Recorder Month. Performing groups included a Baroque ensemble, a recorder ensemble, a soprano as well as acclaimed recorderists Deborah Booth and John Burkhalter and the exceptional Minju Lee on harpsichord.