Flanders Recorder Quartet to Receive ARS Distinguished Achievement Award

The ARS Board of Directors has voted unanimously to grant the Distinguished Achievement Award (DAA) to the Flanders Recorder Quartet, one of the best-known and beloved performing groups specializing in recorder. The quartet, founded 30 years ago, comprises members Bart Spanhove, Paul Van Loey, Tom Beets, and Joris Van Goethem.

The ARS Distinguished Achievement Award is is intended to honor a person or group with the following record:
Work with the recorder at a high level, over a long period of time, extending over more than one specific area of achievement

High public profile

Significant influence in North America
The award will be presented at
a ceremony following the FRQ's concert at the
Amherst Early Music Festival on July 16, 2018.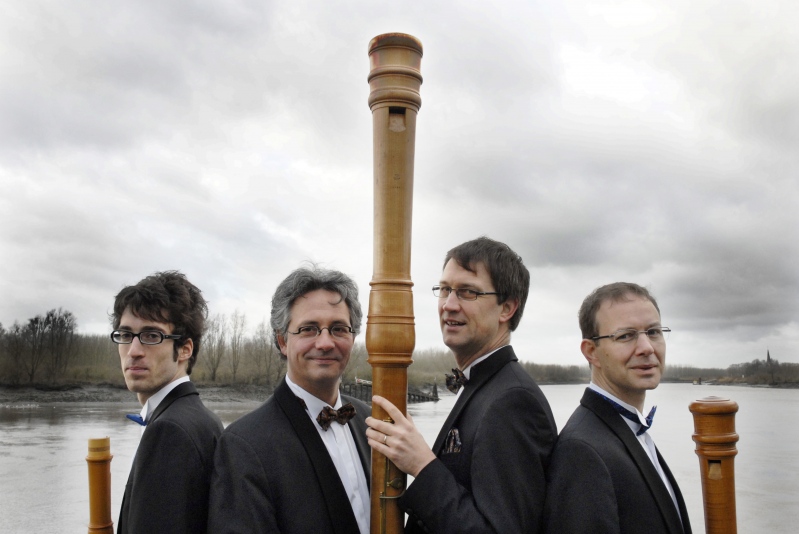 Since its foundation in 1987, the Flanders Recorder Quartet has evolved into one of the world's top ensembles. Their success in 1990 at the prestigious Musica Antiqua Competition in Bruges (Belgium), which is sponsored by the Flanders Festival, was the start of an extensive concert career. After more than 1800 concerts in 42 countries on five continents, including some in world-famous concert halls in Tokyo, New York and Salzburg, the ensemble has attained a prominent position in the world of Early Music. The ensemble also makes regular guest appearances at leading music festivals such as those in Helsinki, Paris, Geneva, Boston, Vancouver, Singapore, Taipei and Mexico City. Numerous prizewinning recordings have been made for record companies such as Harmonia Mundi, Archiv/Deutsche Grammophon, Ricercar, and OPUS III. In 2003 the quartet entered a long and intensive collaboration with the German label AEOLUS.

The members of the Flanders Recorder Quartet have also built up impressive careers as teachers, and are able to convey their pedagogical ideas in an inspiring manner in their capacities as professors as well as at master classes.

"The FRQ brings joy to the hearts of the overwhelmed listeners" (Japanese Journal Yomiuri Simbun).

The Flanders Recorder Quartet has decided to disband at the end of 2018.