The Traveling Teacher Program restarts after COVID: 2 Success Stories
In 2016, ARS launched the
Traveling Teacher Program
to bring teachers to recorder groups without a teacher in their area. Dormant since 2020, the program came back to life as two groups were able to meet with their traveling teacher. Here are their success stories:
Mercer, Maine
We held a TTP workshop on May 20 and 21 with recorder teacher Larry Zukof and it was, as always, super nice. This time, we had 3 new people join: a recorder player from Lincoln ME, a singer and recorder player from Portland ME, as well as a singer and violin player from our ne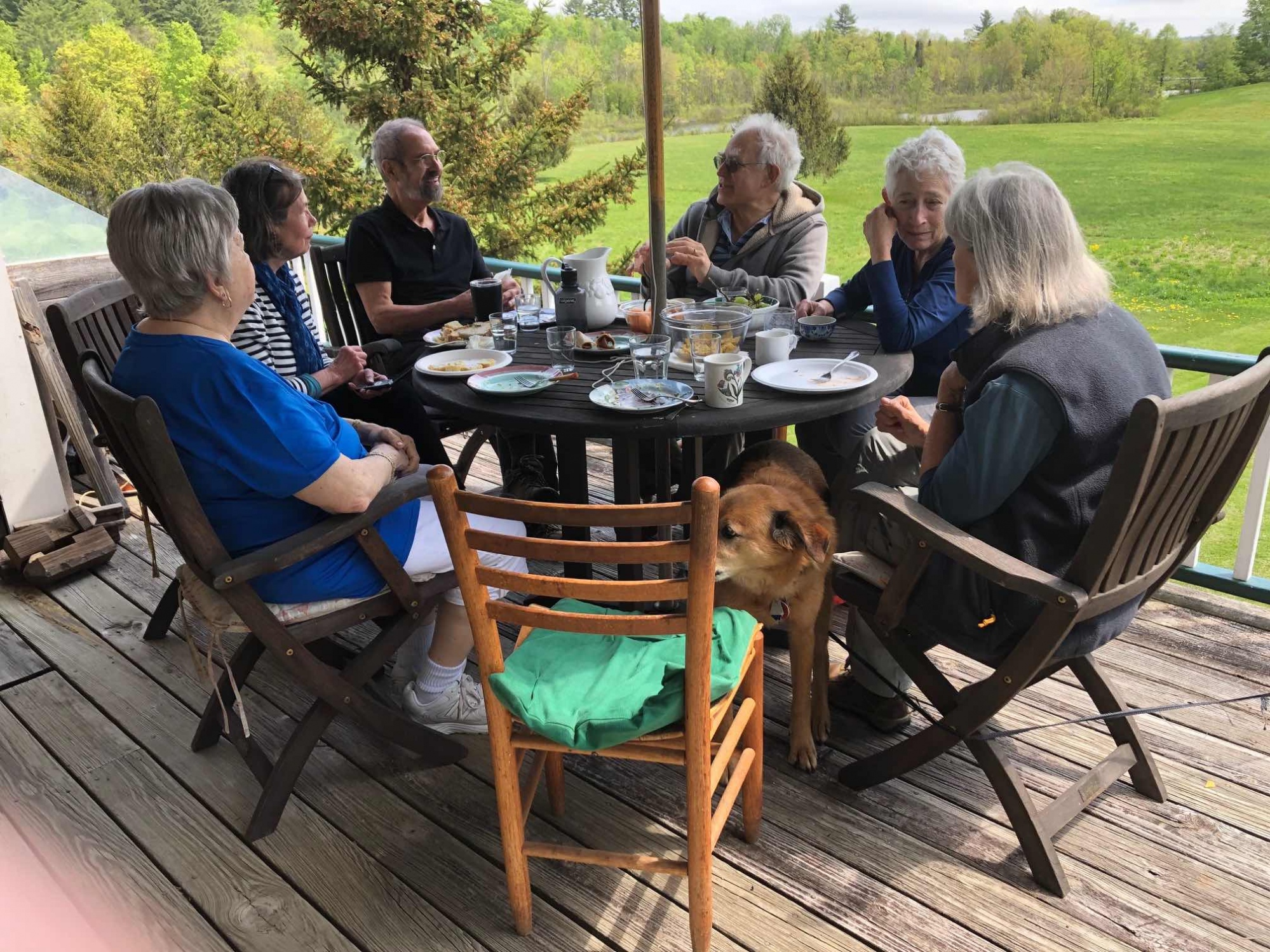 ighboring town New Sharon. There was a group of 12 of us on Friday plus Pam, Larry's wife, and Larry himself. 14 of us in a big circle with 4 viol players, one violinist and 4 singers! The sound we made was lovely with all the instruments and voices combined! We played fun pieces by Buxtehude, Canali and Lassus, Sweelinck and Bresgen to name a few. On Saturday it was 7 of us playing, at my home this time. As always, we had a wonderful time! Everyone is looking forward to the next date which will be the Friday and Saturday after Columbus Day: October 14 and 15, 2022. Thank you again so much for making these "highlights" possible!!!
With warm thanks from the Maine recorder TTP recipients,
Dorothy Beeuwkes
Photo: seven of us having lunch out on the porch on Saturday
Hendersonville, NC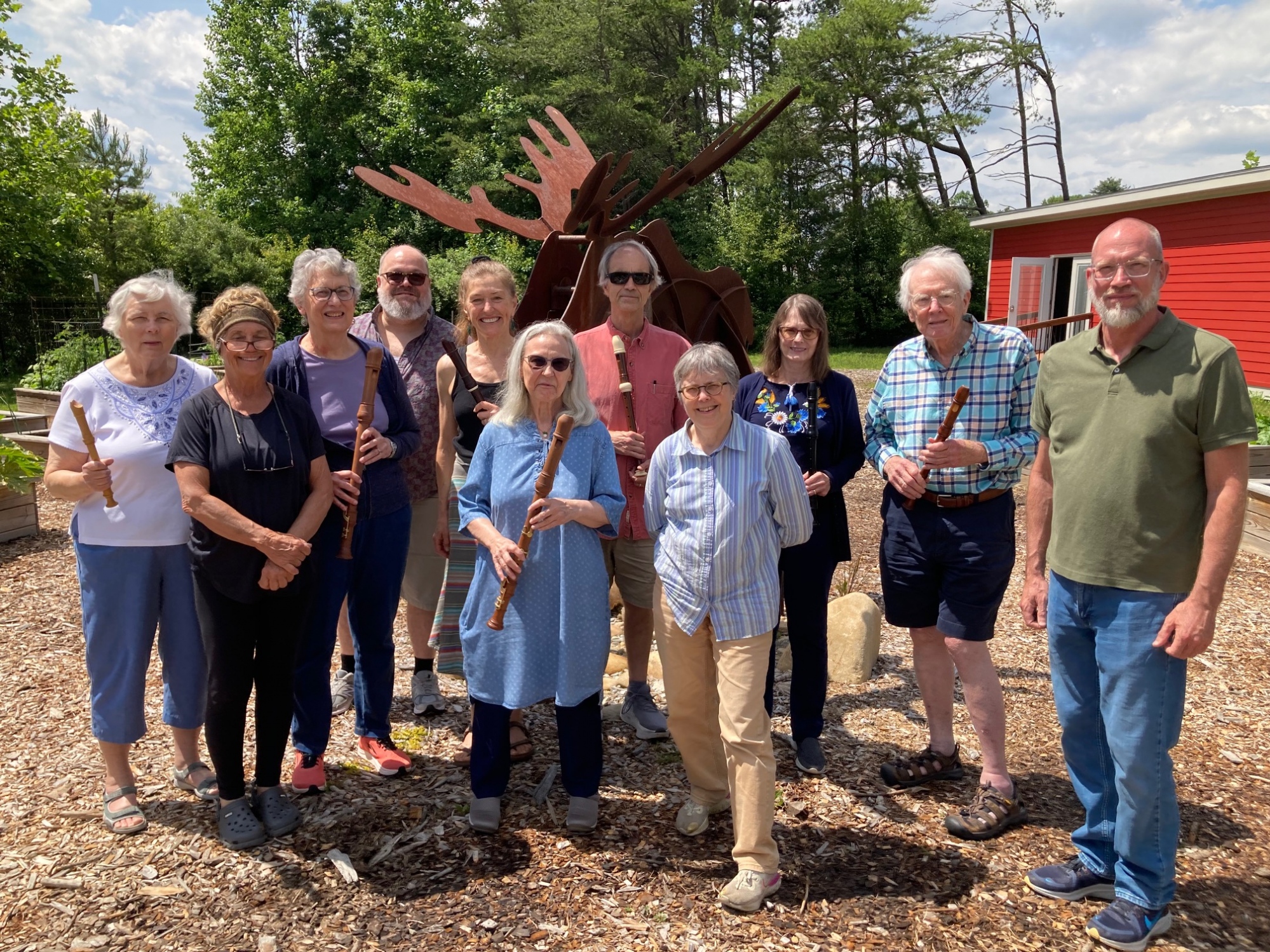 On June 4, Carolina Mountains Recorder Society, with ARS Traveling Teacher Jody Miller (Atlanta) successfully conducted its first of 3 grant-funded workshops on Zoom and in-person, at Carolina Village, Hendersonville, NC, after a 2-year Covid delay.
Workshop 1 included in-person players from central and western North Carolina, South Carolina, and Tennessee - as well as Zoom attendees from farther afield, and Jody helped small groups and individuals with private lessons before and after the group session.
Featured composers on June 4 included Josquin, Senfl, and Willaert, of the court of Ercole D'Este, Duke of Ferrara (1431-1505). The effects of text and specific playing techniques upon musical decisions were central topics of Workshop 1.
The next 2 grant-funded workshops (August 6, October 8) will address music of composers employed by other European nobility who, during their reigns, promoted music and musicians. Workshops 2 and 3 will be offered in-person and online through Zoom, again with opportunities for private instruction.
The Traveling Teacher Program is only one of the many creative, effective ways that ARS uses its resources to promote the recorder, and our CMRS Chapter is excited to have finally begun to initiate its grant activities.
- Submitted by Susan Hartley
Photo: CMRS Workshop 1 in-person participants with Jody Miller and the Carolina Village Moose-cot