Play the Recorder Month
Celebrate

Play-the-Recorder Month


in March 2021!
Play-the-Recorder Day is Saturday March 20, 2021
Recorder players from across North America celebrate March as Play-the-Recorder Month (PtRM). Join the many ARS chapters, consorts and recorder orchestras who are being creative to plan ways to illustrate the versatility and beauty of this wonderful instrument.
PtRM and Play-the-Recorder Day grew out of a one-day worldwide event on April 1, 1989, during the 50th anniversary year of the American Recorder Society. Its success caused the ARS to declare an annual celebration starting with Play-the-Recorder Day on March 28, 1992. This single day was later expanded to month-long activities plus a focus on one day, which is observed on the third Saturday in March. In 2021, it will be March 20. This is a great way to bring energy and excitement to the recorder community, and to gain new members.


"What happens to swallows
who are late for school?
Is it true that they scatter
transparent letters across the sky?"
~ Pablo Neruda, Book of Questions (1973)
The centerpiece of the month will be the commissioned piece for Play-the-Recorder Day 2021, by Boston composer Melika M. Fitzhugh, entitled "Transparent Letters Across the Sky." ARS members received the piece with the Winter 2020 edition of the American Recorder Magazine, and can log in and access the piece here.
This joyful, spirited composition is inspired by the Pablo Neruda poem, quoted above. The ARS is honored to present Melika's work. A graduate of Harvard-Radcliffe (A.B. in Music Theory and Composition), and the Longy School of Bard College (M.M. in Composition), Melika is an award-winning composer, teacher, and director, whose works have been commissioned and performed in the U.S. and internationally.
Our usual PtRM contest has been cancelled due to the pandemic, but there are still plans afoot, so be sure to keep up by checking this page as well as your email inbox.
New for Play-the-Recorder Month 2021: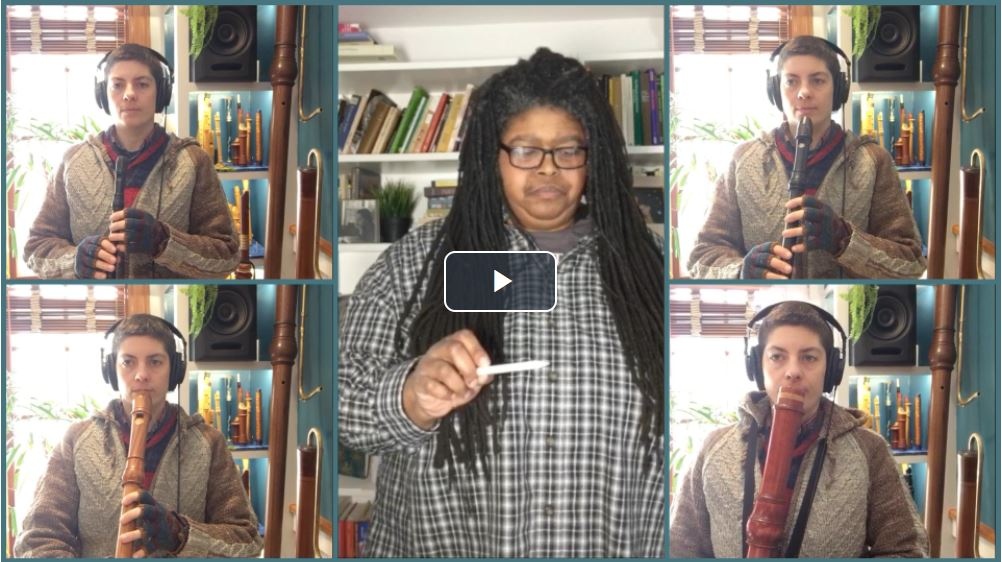 Practice tracks for each part of the PtRM piece will be available on the ARS website, plus a 4-part accompaniment, so you can rehearse on your own or with friends (coming soon!).

And, on March 20, don't forget to tune into the ARS webchat with Melika Fitzhugh, composer of the 2021 Play the Recorder Month piece, Transparent Letters Across the Sky. This will be followed by a Zoom-group play-in of the piece. Time: 11am PT; 12 NOON MT; 1pm CT; 2PM ET. Click here to sign up.

Other PtRM Events to Explore:
Transparent Letters Across the Sky Rehearsal:

On March 6th at 1pm

Pacific Time,

Seattle Recorder Society is hosting a 90 minute virtual rehearsal for the ARS-commissioned piece Transparent Letters Across the Sky. Vicki Boeckman will lead the session. Be ready to play with the ARS on March 20th! Find the details here: http://www.seattle-recorder.org/home.html
#WePlayRecorder Photo Contest: British Columbia Recorder Society is asking recorder players from anywhere (not just North America), to submit photos, videos, or memes showing the recorder out in the world. It's all about raising recorder awareness and encouraging folks to give it a try. The competition is now open and ends on March 20, 2021. Then you, and everyone in our community, have the opportunity to vote for your top three favourites. Winners will be announced on March 29, 2021 via email. Of course, there are fabulous prizes! Find the details here: https://www.bcrecordersociety.com/ptrm-art-competition.html
Columbia Gorge Early Music Retreat: Portland Recorder Society has gone virtual for their 2021 Columbia Gorge Early Music Retreat on March 20th and 21st. Six sessions with topics that you have yet to see anywhere else. You'll find it hard to choose, so why not register for all six? Find the details here: https://portlandrecordersociety.org/columbia-gorge-early-music-retreat/

Here's wishing you all Happy Play the Recorder Month. Let us know how you celebrate!