Practice Project
Welcome to the American Recorder
Practice Project!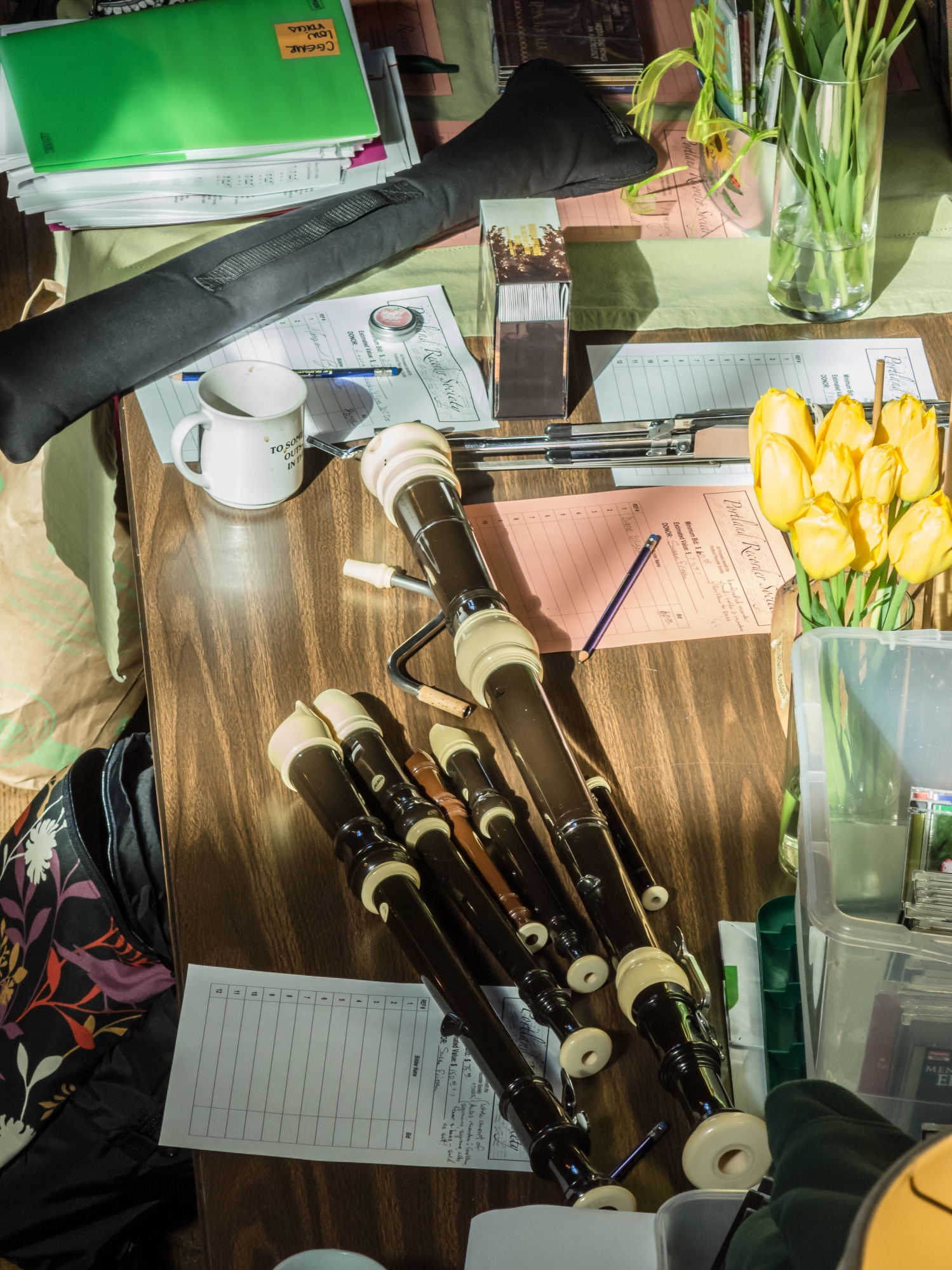 Don't you love playing the recorder? It's fun, though you might be reading this because you suspect that if you played a little better it would be even more fun. Do you have a second? Let's find out a bit more.
First, finish this sentence, just in your head: "As a recorder player, my biggest weakness is ___________." This is the thing that, if you fixed it, you'd become 100 times better.
Next, think of a technical thing or two you've always wanted to be able to do on the recorder. You've heard someone do it in concert—a particular ornament, scale, fast passage.
Last, is there a piece you'd love to play, but right now it's just too hard? It's been on your wish list for a while.
If you have an answer for any of these questions, it sounds like you might have some hidden goals. Goals are good—they make life interesting. Just saying: if you practiced better, you'd be a lot closer to meeting those goals.
My goal is to help you meet yours.
In fact, this page is the gateway to a series of tools for you; it functions as a No Blame Zone for recorder players to find out what works, and what doesn't, when we practice.
American Recorder
magazine is offering you
Four articles over the next year, all about different aspects of practicing
A discussion forum
Tina's Corner: newsy info about people, books, techniques and ideas
Guest Corner: interviews with and articles about professional recorder players and teachers
Videos where amateur players explore practice hacks
I: The four articles in the
Practice Project
, published in
American Recorder
starting with the Winter 2018 issue, will give an overview of many issues connected to good practicing. Topics include:
Making self-evaluation less painful
SHMRG: a fun and functional way to analyze music
Three crafty ways to use a metronome
Creative Problem Solving 101
Anxiety is your friend. Yes, it is.
How the Alexander Technique helps you trill faster
Cooling out with meditation before you go on stage
To read a PDF version of the first article,
"Practice Makes Perfect? Nah (But it does a heck of a lot of other things),
click this link:
https://americanrecorder.org/docs/ARwinter18_practice_project.pdf
"
Solving Technical Problems, With a Definitive List of Practice Hacks
*" the second of four articles in the American Recorder Practice Project, is at
https://americanrecorder.org/docs/ARspring19_practice_project.pdf
.
Included with this article is a workbook where you can make notes on each new piece of music, using SHMRG. Not sure what SMHRG is? Visit Tina's Corner at
http://tinachancey.com/the-practice-project/
for her audio intro to SHMRG.
In the third installment, Tina covers problems other than musical ones that may keep you from practicing effectively:
"When Practicing Well Still Doesn't Do It--These Extra-Musical Suggestions May Make a Difference,"
https://americanrecorder.org/docs/ARsum19_practice_project.pdf
II: Got questions or comments on an article? For a
discussion forum
, moderated by
Practice Project
author Tina Chancey, visit
http://tinachancey.com/the-practice-project
.
You've got some practice hacks of your own—why not share them? Some ideas on how to improve one of the exercises, a criticism or suggestion, a shared frustration. The forum is a chance to talk about setting practice goals and self-motivation. We prime the pump with a rehash of my first Facebook discussion of everyone's favorite practice shortcuts, from August 2017.
III: What's new in
Tina's Corner
? An intro to the best tool you'll ever have for figuring out how to play the music you love, SHMRG. Say what? Visit Tina's Corner at
http://tinachancey.com/the-practice-project/
for her audio introduction to SHMRG.
IV:
Guest Corner
: Laura Osterlund just played recorder in an exciting but grueling six-week run of a play about Nell Gwynn at the Chicago Shakespeare Theater. How did she prepare for it and get through that? And who will we talk to next?
V.
Videos:
#1 features David McGown, who is wondering what SHMRG is, and how it's going to make his playing better. He and I experiment, using everyone's old favorite, Handel's C major sonata. (Click here for the Practice Project Video #1:
https://www.youtube.com/watch?v=LD-YNK6pC6w
and
here
for a PDF of the Handel Sonata.)
#2 and #3 feature Deborah Roudebush in video lessons with Tina Chancey about adding ornaments.
#2 About ornaments: Follow along as Tina and Deborah discuss the purpose and elements of ornamentation, using as their basis the Allemande by Michel de la Barre. Try adding these ornaments yourself:
https://americanrecorder.org/docs/AR1906_Allemande_by_De_la_Barre.pdf
This video "sets up the landing" for the second video, which delves further into ornamentation.
#3 How to practice those ornaments: Anyone who speaks a second language knows that it's not enough to pronounce the words right; you have to know how they fit together in a sentence to create meaning. Deborah Roudebush approaches the new language of French Baroque ornaments with common sense and imagination, and Tina Chancey adds a drop of French champagne as a catalyst. The second video goes into more depth as they discuss how to practice this new syntax and have a target to improve.
#4 Tina Chancey and Rachel Isaacson wonder: Is it Angry Birds? Or Grumpy from the Seven Dwarfs? Rachel hears the opening motive of this Alla Breve as angry. How do you express that and stay in context: keep the music in French Baroque style? And if that's your starting point, where do you go with it as the piece develops? In this Alla Breve by Nicolas Chédeville, it's also important to remember that it's in cut time­-so sometimes it's perky. Follow along with this PDF:
https://americanrecorder.org/docs/AR1906_Alla_Breve__Nicolas_Chedeville.pdf
.
Tina and Rachel decide that the articulations make all the difference­-but do little changes really make a big difference? For the more on the inside story about recorder articulation, read Scott Reiss's article in the January 2006 American Recorder,
https://americanrecorder.org/docs/ARjan06_ArticulationReiss.pdf
and join the conversation with Tina and the Practice Project community!
#5 in which Tina Chancey interrupts Steve Mullany's excellent performance of the Stick Dance by Béla Bartók (from Romanian Folk Dances, 1915). She offers a number of pesky interpretive ideas that take him to unexpected places. But does it end up sounding better? More professional, perhaps? Really? How? Do you bend or roll your thumb? When do you blow, as you move your thumb ­- and how do you coordinate your tongue? Do you practice so that it will sound the same every time? Or do you practice to be ready to listen to and play with the other performers?
Get down and get dirty, as you follow along:
https://americanrecorder.org/docs/AR1906_Stephen_Mullany--_Stick_Dance_by_Bela_Bartok.pdf.
Over the next months I've invited 10 other players to discuss and demonstrate these Practice Hacks (partial list):
How to get a passage up to speed
Shortcuts to faster music reading
Drilling with superimposed rhythms: you know you need it
Rephrasing? Why?
Scoping out the form on the fly
Halloween special: Separating the skeleton of a tune from the flesh
… and more.
Join our
Practice Project
community! Check back often—here and on the forum page at
http://tinachancey.com/the-practice-project
—for information and inspiration.
Here are two ideas to get you started:
First, here's a diagnostic for you: keep a week-long practice log like the one that appears at the end of the first article in the Practice Project series (in your Winter American Recorder). For the next seven days, commit to picking up your recorder with the simple goal of playing for 30 minutes a day. It doesn't matter what you play: play old favorites, sight-read, play tunes by ear, work on concert pieces, just make music—and keep track of how it goes: https://americanrecorder.org/docs/ARwinter18_practice_project.pdf
And, for something else to think about:
Here's an excerpt from an amusing unpublished article by Larry L. Burriss, Ph.D., J.D., titled "Ways to Make Recorder Practice Fail."
https://americanrecorder.org/docs/ARwinter18LB_practice_project.pdf
Do you agree with everything he cautions you about? Share your comments on the forum.
Tina