Traveling Teacher Program - Teacher Participants
Teachers on the following list have requested participation in the ARS Traveling Teacher Program. Your local group should contact the teacher of your choice to confirm availability and compatibility before applying for the ARS Traveling Teacher travel grant. ARS does not endorse specific teachers. Teachers are listed alphabetically, by last name.
Jan Elliott
BOS (Boston, MA)
PVD (Providence, RI)
(508) 540-0865
ellifordjan@aol.com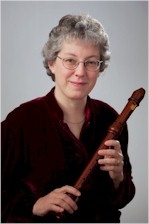 Jan Elliott is a professional performer who loves teaching and helping motivated students at any level. She has played recorder since age 3, and began teaching at 15. Jan has a BA with honors in Music and Education from Wesleyan University, where she studied with W. Britt Wheeler, and an MA in Dance from UCLA where her thesis explored dance/music relations. She taught in the Music Education department at Boston University for 6 years, and achieved basic Suzuki training certification in 2001. She currently manages a home teaching studio, coaches a high-level consort, and performs and records with several early music ensembles, including Ensemble Passacaglia, Courante, and the Boston Recorder Orchestra. Jan recently co-chaired and taught at the Country Dance & Song Society's Early Music Week at Pinewoods Camp, and regularly teaches traditional dance and music at Pinewoods.

Student testimonials:
"THANK YOU for the wonderful, wonderful lessons! I enjoyed every minute."
"You are always extremely helpful in what I need to do to improve."
"You are GOOD. An amazing teacher. Worth every penny."
Clea Galhano
MIN (Minneapolis, MN)
(651) 755-7682