Workshops & Festivals in 2021
The following organizations are Advertisers or Partner Members of ARS, and offer workshops and events of interest to recorder players.
Marilyn Boenau, Executive Director
info@amherstearlymusic.org
Amherst Early Music is the largest presenter of Early Music workshops in North America. Learning opportunities abound for amateur and pre-professional students to study with leading musicians in the field of Early Music. The Amherst Early Music Festival takes place every year in the month of July in two one-week segments.


Contact Name: Jody Miller

recorder96@gmail.com
www.mountaincollegium.org/bloom
Alas, cancelled in 2021, but returning on Labor Day weekend in 2022. Now under the leadership of Mountain Collegium!
This weekend retreat near the Pennsylvania Poconos brings together early musicians who sing or play recorder or viol (and other instruments, too!) each year. With a warm and inviting atmosphere, this workshop offers a good bit of time for impromptu playing sessions to complement the top-notch instruction.
Kathleen Fay, Executive Director
Paul O'Dette and Stephen Stubbs, Artistic Directors
bemf
@bemf.org

Since 1981, the Boston Early Music Festival has established itself as an international leader in the field of Early Music. BEMF presents a wealth of diverse programs and activities, including superb productions of Baroque opera, award-winning recordings, an annual concert season that brings the field's brightest stars to Boston and New York City, and North America's leading festival for Early Music.



Steve Howe, Director of Camp Programs, Early Music Week at Pinewoods
camp@cdss.org
One of the oldest folk organizations in the United States, CDSS is an education and arts service nonprofit for dancers, musicians, singers, callers, and organizers. CDSS specializes in the dances, music, and songs from English and North American traditions. Every year in August, they present the CDSS Early Music Week at Pinewoods in Plymouth, MA. Early Music Week offers joyful opportunities and challenges to players, singers and dancers of every level, from beginners to the highly experienced.

August 14 – 21, 2021 // Plymouth, MA
Epics and Odysseys
Alas, canceled in 2021. To receive updates about camps and online programs via email, sign up for our email list.
Peter Meckel
info@hiddenvalleymusic.org
Hidden Valley Music Seminars was born out of a deep concern for the development of extraordinarily talented young artists. Programs in the fields of music, theatre, opera and dance have occupied most of the time and energies of the staff and faculty since its inception in 1963. It is located in Carmel Valley: a rustic, ten-acre site nestled in the foothills of the Santa Lucia Mountain Range. Road Scholar Early Music classes are offered for recorders and viols.
Week 1: October 24 - 30, 2021
Week 2: October 31 - November 6, 2021
Workshop Director: Letitia Berlin
Week 1 Faculty:
Letitia Berlin, Workshop Director and recorder
Frances Blaker: recorder and orchestra
Lawrence Lipnik: viola da gamba and recorder
Davis Morris: viola da gamba
Shira Kammen: Early strings
Week 2 Faculty:
Letitia Berlin: Workshop Director, recorder, and dulcian consort coach
Frances Blaker: recorder and orchestra
Lawrence Lipnik: viola da gamba and recorder
Marilyn Boenau: dulcian, shawm, and recorder
Julie Jeffrey: viola da gamba
Revel in the lyrical sounds of the recorder, viola da gamba and harpsichord as you share your musical gifts during a week-long intensive early music workshop. Enhance your skills in small classes taught by expert instructors with emphasis on improving technique and playing with ensembles. At Hidden Valley Music Seminars, An Institute of the Arts, nestled amongst oak and buckeye trees below majestic hillsides, enjoy a serene and inspiring place for playing music. This program is for intermediate to advanced recorder and viola da gamba players. Week 2 includes dulcian and shawm.
Contact Information:
Peter Meckel
PO Box 116, Carmel Valley, CA 93924
(831) 659-3115
info@hiddenvalleymusic.org
www.roadscholar.org/6254

EarlyMusicWeekMideast@gmail.com
All-virtual classes to be held in July 2021
. This is an opportunity for early music enthusiasts to work with an outstanding faculty and students of all levels. The week includes technique classes at all levels (except novice); large and small ensembles; your choice of classes on various early music topics; English Country Dance. Begin a new instrument and/or improve current skills. When meeting in person, all facilities are air-conditioned, with comfortable accommodations located on a small college campus.
Jody Miller, Director
recorder96@gmail.com
June 27-July 2, 2021
Mountain Collegium Early Music & Folk Music Workshop
Beginner-Friendly, with tracks for novice and advanced players
Online using Zoom
Jody Miller, Director
Gwyn Roberts, Anne Timberlake, Patricia Petersen, Valerie Austin, Barbara Weiss, Phil Hollar, Jody Miller
With a reputation as a fun and hospitable workshop, Mountain Collegium is usually surrounded by backdrops of the Smoky Mountains. This year's workshop will be virtual, but will still possess those Mountain Collegium traditions. Options will include single-session classes and multi-session classes, all taught by our talented and engaging faculty. Large group events will include a folk lecture, nightly Big Blow and Bow sessions, and a virtual faculty concert. Registration information available here.


June 21-27, 2021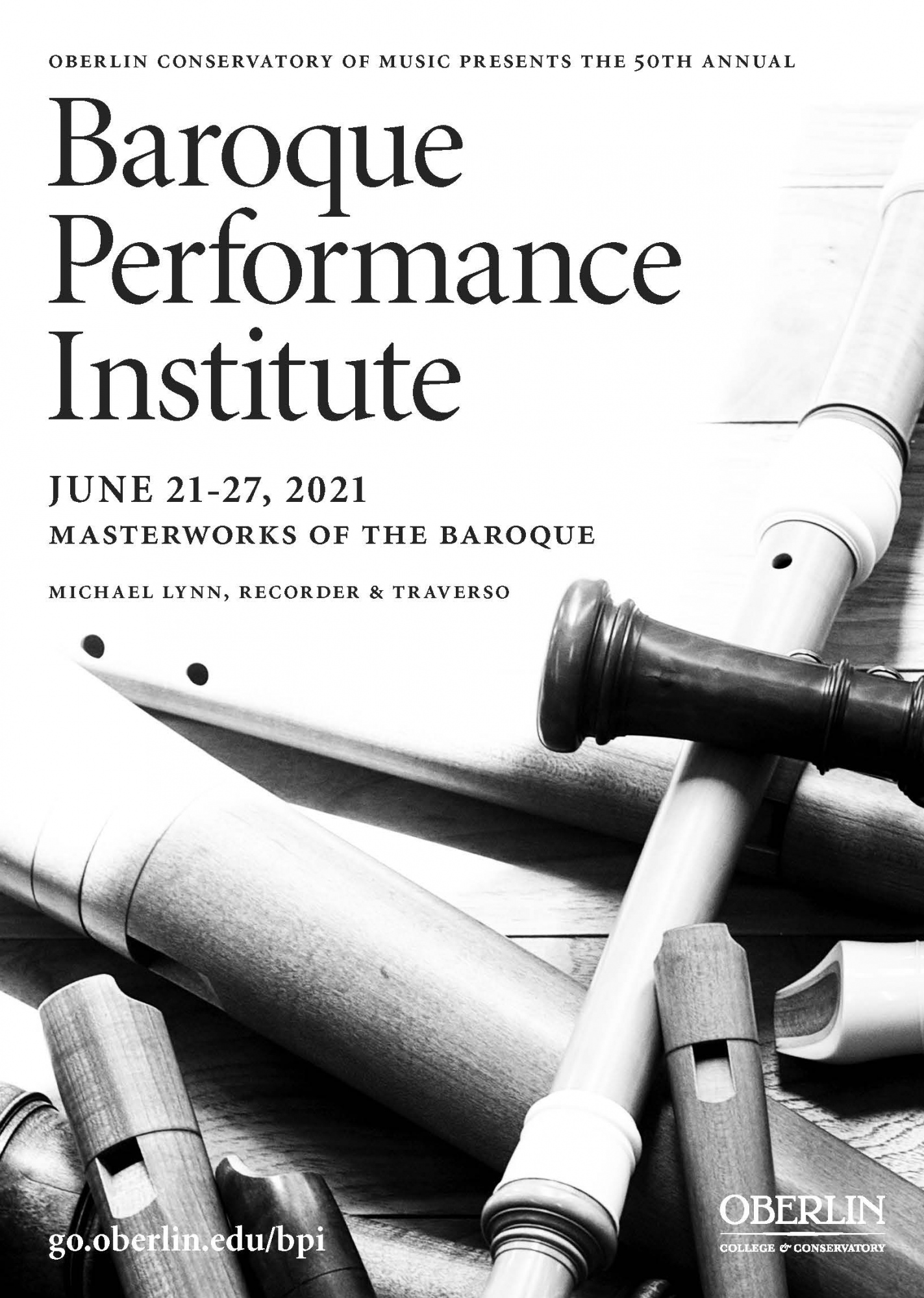 Location: Virtual
Director: Kenneth Slowik
Faculty: Oberlin Baroque Ensemble and guests
Scholarships available to ARS members - click here for more information

BPI at 50 - Masterworks of the Baroque
America's premier summer workshop for baroque instruments and voice. The internationally-renowned faculty will again lead daily master classes augmented by lectures/demonstrations, and informal open discussions. Faculty and student concert promise to offer memorable listening and music-making experiences.
Contact: Anna Hoffmann
Oberlin Conservatory of Music, Oberlin OH
Phone: 440-775-8044
Email: anna.hoffmann@oberlin.edu
Website: go.oberlin.edu/bpi











Jo Baim, Administrative Director
workshop@seattle-recorder.org
The Seattle Recorder Society's Port Townsend Early Music Workshop at the University of Puget Sound offers an opportunity for players of recorder, viol, and historical winds to study and play music of the Middle Ages, the Renaissance, the Baroque, and the 20th-21st centuries. The Port Townsend Early Music Workshop is held every other year, in odd-numbered years.











Derek Tam, Executive Director
workshops@sfems.org
https://sfems.org/contact/
This year, SFEMS workshops will be consolidated into three months of online classes from mid-May through early August. The Baroque, Medieval/Renaissance, Classical, and Recorder Workshops will all offer classes in play-along formats, as well as some lecture topics in musicology from our world-renowned faculty. Discounts/scholarships available. For our Music Discovery Workshop and Youth Collegium, Yuko Tanaka, director,
check website for updates
.
SFEMS also sponsors the Berkeley Festival and Exhibition every other year, with world-class performances and a large exhibit hall with many vendors offering instruments, music and more.
suzukiassociation.org/teachrec
The Suzuki Association of the Americas, Inc. is the organization officially licensed by the International Suzuki Association to support, guide, and promote Suzuki education in North, Central, and South America.
A nonprofit organization, the SAA was founded in 1972. Its membership of approximately 8,000 is a coalition of teachers, parents, educators, and others who are dedicated to making music and early childhood education available to all children throughout the Americas through the Suzuki Method.

There are many events:

Memphis Suzuki Institute Online
June 9 & 10, 2021 | Every Child. Can! (Rita Hauck)
June 11-18, 2021 | Suzuki Recorder Unit 1. (Mary Halverson Waldo)
Samuel Sidhom, Director; Mary Halverson Waldo, Suzuki Recorder Trainer
Contact: Samuel Sidhom, (901) 848-1955
info@suzukimemphis.com
https://suzukimemphis.com

Suzuki Teacher Training Online:
Every Child Can! - May 15 & 16 (Saturday and Sunday afternoon)
Registration deadline: April 24 (to allow mailing of textbook)
pre-requisite to ALL other Suzuki teacher training courses
also recommended for parents of students - lots of helpful practice resources!
cost: $130 (includes textbook and course registration with Suzuki Association of the Americas)
Introduction to Suzuki Recorder: - June 5, 12,19, & 26 (four Saturday afternoons)
Every Child Can! is a prerequisite to this class
discover how using a language learning model can enhance student success
yes, small children can play the recorder with a beautiful tone!
lesson and class observations, pedagogy discussions, opportunities to try things out for yourself in short lessons
recommended for teachers using recorder in elementary general music classes
also recommended for anyone who always wanted to learn by ear but didn't know where to start
cost: $250 - combine with the Every Child Can! class for $50 discount
Registration link here
https://fluteplayer.ca/teacher-trainer/ or contact Kathleen Schoen at flutesrus@gmail.com


Daniel Johnson, Workshop Director
info@toot.org
The Texas Toot is a Texas-based non-profit devoted to early music education and performance, presenting two workshops each year. The Fall Texas Toot is a short weekend workshop with instruction in recorders, viols, early reeds, harp, lute, voice, and more. The Summer Texas Toot offers a one-week program of classes at all levels, focusing on Renaissance and Baroque music, but with offerings for Medieval and 21st century enthusiasts as well. Expert instructors in recorder, viol, early reeds, lute, harp, and voice will tend to young professionals, seasoned amateurs, and eager beginners with equal care. The Toot also sponsors or supports other events, including the Renaissance Polyphony Weekend.
Pamela J. Wiese, Director
oprecorder@gmail.com
June 5 and 6, 2021
All classes will be conducted through Zoom
Directors: Laura Kuhlman and Pam Wiese
Faculty: Jennifer Carpenter, Recorder; James Chaudoir, Recorder; Clea Galhano, Recorder; Eric Haas, Recorder; Lisette Kielson, Recorder. Laura Kuhlman – advanced beginner recorder; Mona Mann – advanced beginner recorder; Holly Maurer – viol; Ross Morley – viol; Gayle Neuman - Mixed Consort; Phil Neuman - reeds; Gayle Anne Schroeder – viol; Kate Shuldiner - viol
Whitewater is a weekend of playing Early Instruments in south central Wisconsin. Classes for recorders of all levels, voice and viola de gamba. Krumhorns, bagpipes and sackbuts are welcome too. Six to eight classes per day and you choose four per day in which to participate. Classes for recorders of all sizes, historic double reeds, viola da gamba and more! Classes for lower intermediate to advanced. $75 for both days (up to 8 classes) or $40 for one day (up to four classes).