Workshops & Festivals in 2022
The following organizations are Advertisers or Partner Members of ARS, and we are delighted to spread the word about their workshops and events of interest to recorder players.
April 2-3, 2022
Amherst Early Music Spring Break Workshop
St. George's Episcopal Church, Arlington VA
Director: Letitia Berlin
Faculty: Rainer Beckmann,
recorder,
Letitia Berlin,
recorder
, Rosamund Morley,
viola da gamba
, Mark Cudek,
lute
, Richard Giarusso,
chorus
Byrd, Bach, and Bey0nd
Rainer Beckmann and Tish Berlin will work with two groups of recorder players in music by Johann Sebastian Bach, Byrd, Duarte, Sweelinck, Lassus, and more. Players of Renaissance recorders will have one session each day devoted to their instrument.
May 27-30, 2022
Amherst Early Music Memorial Day Weekend Workshop (ARS)
Wisdom House, Litchfield, CT
Director: Valerie Horst
Get the jump on summer with a weekend of small and larger chamber music in an idyllic retreat center in rural Connecticut. The Amherst Early Music Weekend Workshops are smaller, more relaxed versions of the summer festival. Take classes in a variety of subjects for most of the day -- repertory, notation, technique, and ensembles.
August 7-14, and 14-21, 2022
The Amherst Early Music Festival
Northampton Community College, Bethlehem, PA
Director: Frances Blaker
Recorder Faculty: Aldo Abreu, Miyo Aoki, Annette Bauer, Rainer Beckmann, Letitia Berlin, Frances Blaker, Deborah Booth, Saskia Coolen, Na'ama Lion, Patricia Petersen, Wendy Powers, and Jennifer Streeter. See website for complete list of Festival Faculty!
Classes are on a wide range -- Medieval, Renaissance, Baroque, and Traditional music topics. You can take an easy ride, just for the fun of it, or you can improve your playing, singing, or dancing; expand your knowledge; and enjoy being part of the friendly and stimulating Festival community. Classes run Monday thru Friday each week. Tuition: $675 per week for all programs. See website for room & board options.
Contact: Marilyn Boenau, Executive Director
35 Webster St, West Newton, MA 02465
781-488-3337
info@amherstearlymusic.org
amherstearlymusic.org
.

Sept. 2-Sept. 4
Bloom Early Music Workshop
St. Matthew Lutheran Church, 123 Market St., Bloomsburg PA
Faculty: Lisle Kulbach, Lawrence Lipnik, Jody Miller, Phil Hollar
Theme: "Return Fond Muse"
This weekend retreat near the Pennsylvania Poconos brings together early musicians who sing or play recorder or viol (and other instruments, too!) each year. With a warm and inviting atmosphere, this workshop offers a good bit of time for impromptu playing sessions to complement the top-notch instruction.
Contact: Jody Miller, 404-314-1891
recorder96@gmail.com
www.mountaincollegium.org/bloom
While more will be revealed, please save June 5–12, 2022 for the 17th biennial, in-person(!) Berkeley Festival & Exhibition. Over the course of eight days, you'll be treated to a stellar lineup of local, national, and international artists on our concert main stage.
You also won't want to miss the Exhibition & Marketplace, a three-day bazaar featuring dozens of national and international makers and sellers of historical instruments, music scores, books, and paraphernalia, as well as abundant information for all early music lovers.
We are also excited to present the Fringe, a series of independently-produced concerts by soloists and ensembles from around the world.
Among our several partners for the festival will include Early Music America, the premier service organization for historically informed performance in North America. In particular, we welcome the return of the Young Performers Festival and the Emerging Artists Showcase.
Kathleen Fay, Executive Director


Nina Stern, Director of Community Engagement nina@bemf.org

The Boston Early Music Festival presents an annual concert series, biennial week-long Festival, and national and international tours. A new initiative will feature workshops for young instrumentalists, starting with recorders! Featured recorder artists have included Erik Bosgraaf, Cléa Galhano, Paul Leenhouts, Kathryn Montoya, Stefan Temmingh, Han Tol, the Flanders Recorder Consort, and Boreas Quartett Bremen. The next Festival, themed A Celebration of Women, takes place June 4-11, 2023. Workshop details can be found at BEMF.org/Engaging.
https://bemf.org/2023-festival/engaging-communities/

Steve Howe, Director of Camp Programs, Early Music Week at Pinewoods
camp@cdss.org
One of the oldest folk organizations in the United States, CDSS is an education and arts service nonprofit for dancers, musicians, singers, callers, and organizers. CDSS specializes in the dances, music, and songs from English and North American traditions. Every year in August, they present the CDSS Early Music Week at Pinewoods in Plymouth, MA. Early Music Week offers joyful opportunities and challenges to players, singers and dancers of every level, from beginners to the highly experienced.

August 13-20, 2022
CDSS Early Music Week at Pinewoods
Pinewoods Camp, Plymouth, Mass.
Director: Lisa Terry
Faculty: Tom Amessé, Miyo Aoki, Anney Barrett, Michael Barrett, Karen Burciaga, Héloïse Degrugillier, Jan Elliott, Frances Fitch, Eric Haas, Ben Matus, Sarah Mead, Dan Meyers, Emily O'Brien, Jacqueline Schwab, Niccolo Seligmann, Luanne Stiles, Lawrence Zukof

"Chaos and Creativity"
After two years of out-of-balance disorder, we will come together in music and dance this summer creating new order and new connections. Early Music Week offers joyful opportunities and challenges to players, singers and dancers of every level, from beginners to the highly experienced. As classes unfold through the week, we will explore and discover the innovation and creativity that lie behind some of the world's most vibrant and compelling renaissance, baroque, and medieval music, listening and playing with deeper understanding, as well as dancing together and enjoying all that the Pinewoods community has to offer.
Contact: Joanna Reiner Wilkinson
camp@cdss.org
cdss.org/em
Peter Meckel
info@hiddenvalleymusic.org
Hidden Valley Music Seminars was born out of a deep concern for the development of extraordinarily talented young artists. Programs in the fields of music, theatre, opera and dance have occupied most of the time and energies of the staff and faculty since its inception in 1963. It is located in Carmel Valley: a rustic, ten-acre site nestled in the foothills of the Santa Lucia Mountain Range. Road Scholar Early Music classes are offered for recorders and viols.
Road Scholar National Recorder/Early Music Workshop
Hidden Valley Music Seminars, Carmel Valley, CA
Week 1: October 23 - 29, 2022
Week 2: October 30 - November 5, 2022
Week 1 Faculty:
Letitia Berlin, Workshop Director & recorder
Frances Blaker: recorder & orchestra
Lawrence Lipnik: recorder & viola da gamba
Week 2 Faculty:
Letitia Berlin: Workshop Director, recorder, & dulcian consort coach
Frances Blaker: recorder and orchestra
Lawrence Lipnik: recorder & viola da gamba
Revel in the lyrical sounds of the recorder, viola da gamba and harpsichord as you share your musical gifts during a week-long intensive early music workshop. Enhance your skills in small classes taught by expert instructors with emphasis on improving technique and playing with ensembles. At Hidden Valley Music Seminars, An Institute of the Arts, nestled amongst oak and buckeye trees below majestic hillsides, enjoy a serene and inspiring place for playing music. This program is for intermediate to advanced recorder and viola da gamba players. Recorder players should be able to play at least two sizes. Week 2 includes dulcian and shawm.
Peter Meckel
PO Box 116, Carmel Valley, CA 93924
(831) 659-3115
info@hiddenvalleymusic.org
www.roadscholar.org/6254
https://www.interlochen.org/college-creative-arts/programs/early-music-workshop
gary.gatzke@interlochen.org

Join us for the 2022 Early Music Workshop as we explore music from Denmark in the early seventeenth century. Period instruments are highlighted and program sessions focus on articulation, ornamentation, improvisation, and rehearsal techniques. The workshop culminates with an optional participant concert.
Explore music from the court at Copenhagen during the reign of Christian IV (Denmark) (r.1588-1648). We'll learn about Christian's sister, Princess Anne, and her famous husband, James I/VI (England, Ireland, Scotland) and play repertoire from their favorite composers.

You'll get to know the music and history of late Renaissance Denmark with fellow early music enthusiasts. In five days, you'll work towards an optional performance and play music by composers associated with the Danish court including Mogens Pedersøn, Giovanni Gabrieli, Orazio Vecchi, Thomas Simpson, and John Dowland.

We welcome players of recorders, early winds (cornetto, shawm, dulcian, sackbut, crumhorn), violins (with Baroque/Renaissance bow), viols, lutes, Renaissance harp, harpsichord, and percussion. There will be opportunities for vocalists as well.

Participants must have the ability to read music. If you are an instrumentalist, please bring your own instrument(s). Instrumentalists must have proficiency on at least one period instrument. The course will be held at A=440. Some instruments are available to borrow during the workshop with advanced communication with the instructor. Printed music will be provided.
Course Dates: Tuesday, July 5, 2022 to Saturday, July 9, 2022
Early Registration Fee: $450 (Early Registration ends on May 1, 2022)
Registration Fee: $495
Registration Deadline: June 28, 2022
Registration link
Sarah Huebsch Schilling, Artistic Director
4000 J Maddy Pkwy
Interlochen, MI 49643
(231) 276-7200

EarlyMusicWeekMideast@gmail.com
This is an opportunity for early music enthusiasts to work with an outstanding faculty and students of all levels. The week includes technique classes at all levels (except novice); large and small ensembles; your choice of classes on various early music topics; English Country Dance. Begin a new instrument and/or improve current skills. All facilities are air-conditioned, with comfortable accommodations located on a small college campus.
July 17-23, 2022,
LaRoche University, Pittsburgh, PA
Revel in a Renaissance of Playing TOGETHER after the Dark Ages of Covid!
Friendly, welcoming staff and students will make you feel right at home. Bring recorder, Baroque flute or viola da gamba for your main instrument. Then fill up the car with all your other early music instruments, like crumhorns, harps, sackbuts, percussion and more. This is your opportunity as an early music enthusiast to work with an outstanding faculty. The week includes technique classes at all levels; large and small ensembles and a variety of elective classes.
Morning technique classes are geared to specific levels in recorder, viol, and Baroque flute. Worried that you are "just a beginner" ? If you can read treble clef and know the basic fingerings on an alto recorder, we have a beginner's technique class for you! The first afternoon class is consort music, also by level.
Lots of electives! Afternoon classes in secondary instruments such as "Try A Viol"! In Renaissance Band, Stew Carter's witty arrangements for all manner of of instruments: wind, strings & percussion keep us on our musical toes. Danny Mallon's Road to Rhythm class is a fun and interactive way for you to improve your rhythm and learn practical drumming techniques that you can add to your ensemble. The Master class gives a chance to perform something you or your group has worked on with gentle coaching by the teachers. The much loved evening all-workshop-ensemble with Eric Haas is glorious with his rich and sonorous arrangements for instruments and voices. English country dancing also in the evening. The faculty concert is much anticipated; AdHoc concert, where students can choose what to present, and the Friday evening workshop concert, followed by libations, keep the music going into the eve.
Faculty includes: Stew Carter, Majbritt Young Christiansen, Eric Haas, Danny Mallon, Martha McGaughey, Chris Ramsey, Chris Rua, James Young
Jody Miller, Director
recorder96@gmail.com
June 26-July 2, 2022
Mountain Collegium Early Music & Folk Music Workshop
Western Carolina University, Cullowhee, NC
Director: Jody Miller
Faculty: Anne Timberlake, Pat Petersen, Gwyn Roberts, Shira Kammen, Erik Schmalz

Make music against the backdrop of the Smoky Mountains as you learn from some of the most influential recorder players in the country. The inviting atmosphere makes Mountain Collegium perfect for the experienced musician or for the novice who is looking for their first in-person workshop. Known for its striking array of class topics, Mountain Collegium provides opportunities for recorder players of all levels. Modern, air-conditioned dorms, great meal options, and plenty of nature to enjoy make this workshop the ideal getaway! Open to recorders, viols, voices, brass, capped and open reeds, harps, pennywhistles, and other historical and folk instruments. Registration information available March 2022.
Contact: Jody Miller, 404-314-1891
info@mountaincollegium.org
www.mountaincollegium.org


June 19-July 3, 2022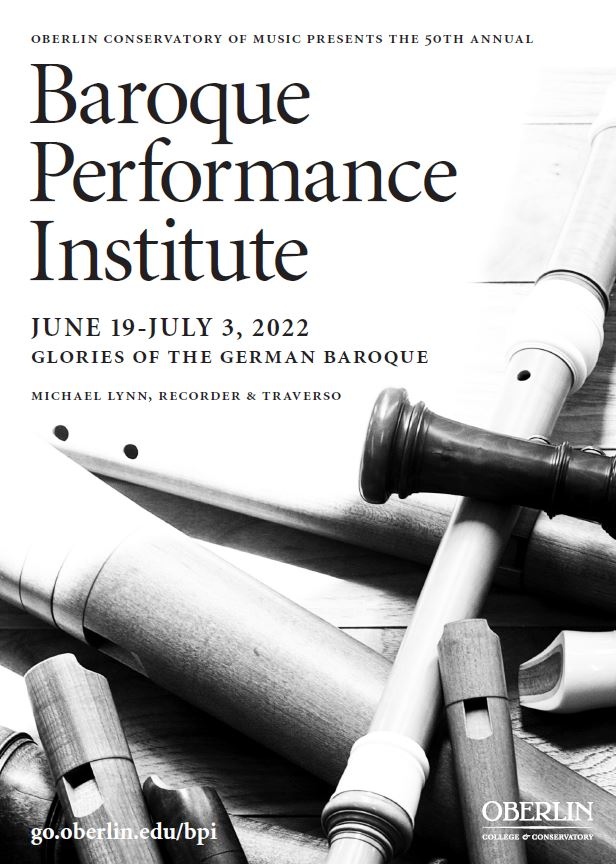 Oberlin Baroque Performance Institute
Oberlin College Conservatory of Music - Oberlin, Ohio
Director: Kenneth Slowik
Faculty: Michael Lynn
Celebrating 50 Years of BPI

The Oberlin Baroque Performance Institute, the premiere summer workshop focusing on baroque instruments and voice, will mark its 50th anniversary season of preparing
musicians to perform some of the great works on period instruments. Learn from faculty
and resident artists and participate in master classes, recitals, and student concerts to practice baroque techniques and gain a fuller appreciation of this unique musical genre.

Contact: Anna Hoffmann
Oberlin Conservatory of Music, 77 West College Street, Oberlin OH 44074
440-775-8044
summer@oberlin.edu
https://www.oberlin.edu/summer-programs/bpi








Derek Tam, Executive Director
workshops@sfems.org
https://sfems.org/contact/
June 26–July 2
SFEMS Baroque Workshop
July 10–16
SFEMS Medieval/Renaissance Workshop
Berkeley, California
Director: Adam Gilbert
July 17–23
SFEMS Recorder Workshop
Berkeley, California
Directors: Rotem Gilbert & Hanneke van Proosdij
Date(s) August 7–13
SFEMS Classical Workshop (ARS)
Berkeley, California
Director: Kati Kyme & Bill Skeen
Faculty: Kati Kyme, Lisa Wiess, Anthony Martin, William Skeen
The above workshops are all 1-week workshop with day classes and evening presentations, held in Berkeley, CA. Room and Board info posted on
sfems.org
soon.
Contact: Stacey Helley, PO Box 10151 Berkeley, CA 94709
510-683-1674
workshops@sfems.org
sfems.org
Daniel Johnson, Workshop Director
info@toot.org
May 29 - June 4, 2022
Summer Texas Toot
Schreiner University, Kerrville TX
Director: Daniel Johnson; Susan Richter, Administrator
Faculty: TBD
The Summer Texas Toot offers a one-week program of classes at all levels, focusing on Renaissance and Baroque music, but also ranging from Medieval to Sephardic to 21st century. Expert instructors in recorder, viol, lute, harp, continuo, and voice will teach technique classes, coach one-on-a-part groups, and lead larger ensembles, both mixed and whole.
Contact: Danny Johnson, (512) 578-8040
info@toot.org
https://toot.org/SummerToot/2022/index.html
Pamela J. Wiese, Director
oprecorder@gmail.com
June 3-5, 2022
Whitewater Early Music Festival
University of Wisconsin at Whitewater, Whitewater, Wisconsin
Directors: Laura Kuhlman, Pamela Wiese
Faculty: James Chaudoir, David Echelard, Lisette Kielson, Laura Kuhlman, Mona Mann, Gayle Neuman, Phil Neuman, Patrick O'Malley, Katherine Shuldiner, Karen Snowberg
Whitewater is a weekend of playing Early Instruments in south central Wisconsin. Classes for recorders of all levels, voice and viola de gamba. Krumhorns, bagpipes and sackbuts are welcome too.
Contact: Pamela Wiese, 708-860-0451