About the Recorder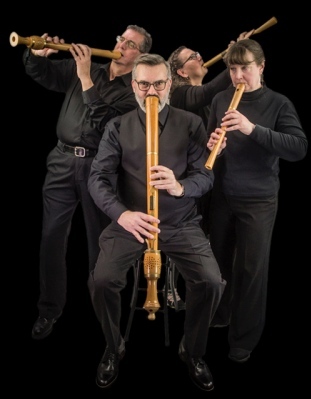 Rather than a mere toy, an educational aid, or a simple musical instrument suitable only for amateurs, the recorder is a vehicle for serious musical expression demanding years of dedicated study. It has a long and interesting history and can lay claim to an extensive and highly varied repertoire spanning eight centuries. It has always enjoyed a particularly rich representation in literature, drama, painting and sculpture.
During the fifteenth century instrument makers began producing choirs (or consorts) of recorders and other instruments in various sizes. As the sixteenth century progressed, consort recorders were constructed with conical bores tapering gently towards the foot. These recorders have a bold, rich timbre which is even in quality and dynamic level throughout their range. They are ideally suited to the performance of the polyphonic vocal and instrumental music of the late fifteenth to early seventeenth centuries, blending readily and in balance with each other in whole consorts or contrasting on equal terms with other renaissance instruments or voices.
During the late seventeenth century, the recorder was completely redesigned for use as a solo instrument. Where previously it had been made in one or two pieces it was now made in three allowing for more accurate boring. It was given a more pronounced taper than ever before and had a fully chromatic range of two octaves and ultimately two octaves and a fifth. It was voiced to produce an intense, reedy and penetrating tone of considerable carrying power and expressiveness. Many splendid original examples of such instruments survive today in playing condition.
(excerpted from Lander, Nicholas S. 1996–2019. Recorder Home Page: History. Last accessed 25 November 2019. https://www.recorderhomepage.net/history/)
Recorder sizes and types
Recorders are made in different sizes with names and ranges roughly corresponding to different vocal ranges. The sizes most commonly in use today are the soprano, alto, tenor and bass. Recorders are also often referred to by their lowest sounding note: "recorder in f'" refers to a recorder with lowest note f'. In recent years, many consorts also include larger recorders: a great bass in C, and a contrabass in F.
If you are thinking of taking up the recorder, the alto is a great place to start. There is a great amount of solo literature written for this instrument and, because the pitch is lower, it is a great choice for beginners who don't yet have the skill to make a soprano sing sweetly. There are many high quality, plastic alto recorders available, which are a better choice than an inexpensive wooden recorder when starting out.
Recorders can vary in price from the $2 clear plastic soprano recorder version used by school children to a $3,000 professional quality instrument. A Great Bass recorder can cost over $10,000. Fortunately, there are reasonably priced, well-designed plastic recorders, as well as innovative wooden recorders with a square shape. Again, if you don't know where to start, a baroque style alto recorder is a great choice. As an example, the Yamaha YRS-302BIII recorder is priced at $45, with a good design and tuning.
Some of our favorite online performances
Consort instrument: Renaissance recorders
The renaissance consort may include instruments from the soprano through contrabass. These instruments were typically made in one or two pieces and tuned to blend with each other using pure thirds and fifths. In practice, many of us play Renaissance music on our Baroque-styled recorders, but the experience of hearing and playing this music on earlier-styled recorders is thrilling!
The Royal Wind Music - Pierre Phalèse/ Bransle
The Royal Wind Music - Innocenzio Alberti/ Pavin of Alberti & Gallyard
Heinrich Isaac - Der Hund - Tre Fontane
Solo instrument
Dan Laurin | Jacob van Eyck – "Engels Nachtegaeltje" | Po prostu… Filharmonia!
Antonio Vivaldi (1678-1741): Recorder Concerto in C Major, RV 443 (1728-29) performed by Maurice Steger, Cappella Gabetta
Martin Bernstein performs Jean-Baptiste de Bousset: "Pourquoy doux rossignol"
Performances of Contemporary Music
Sören Sieg - Yitsho, Yintoni ulonwabo (2015), performed by Flanders Recorder Quartet
Clea Galhano performs Ave Maria, by Astor Piazzolla
Take Five, performed by the Formosa Recorder Quartet
What is the American Recorder Society?
We are your Recorder Community! The
American Recorder Society
is a non-profit membership organization. For 80 years, the ARS has provided a supportive community for all who value the recorder and its music.
The mission of the American Recorder Society is to promote the recorder and its music. Our goals are to be the organization every recorder player wants to join, and to support and grow the diverse recorder community by providing resources and opportunities on the social, educational, and professional levels. We envision a future in which the recorder and its music are enjoyed, valued and supported across generations, ethnicities and cultures.
How can the ARS support your recorder adventure?
Benefits of ARS membership
Quarterly American Recorder magazine
and archived past issues
Find a recorder teacher
Find an ARS Chapter, Consort, or Recorder Orchestra near you
Links to business members
(music, instruments, and more)
Learning Resources on our website
ARS NOVA archive
- our monthly e-mag on topics of interest for recorder players
ARS Downloadable Music Libraries
-- free downloads for members
Join the American Recorder Society!
First-year membership is half price.
Links to our business members who specialize in sales of music and/or high quality instruments
Honeysuckle Music
Kunath Group
Lazar's Early Music
Moeck Musikinstrumente + Verlag GmbH
Prescott Workshop
Von Huene Workshop and The Early Music Shop of New England
Online music links
ARS Downloadable Music Libraries
IMSLP
Sharing the World's Public Domain Music
CPDL
Choral Public Domain Library